What is the FIX Course?
FIX Course is a course in which you can study the subjects you desire (mathematics, English, Japanese and/or Nihongo (Japanese for speakers of other languages)) using Kumon educational materials that are consistent with your level. You can study anytime you want from a range of class days and study times.
If any of the following items apply to you, you are especially recommended to participate in the course.
I want to brush up on the basics.
I want to work at a Japanese company.
I want to prepare for the SPI Test.
I'm good at speaking Japanese, but I'm not confident about grammar or my reading / writing skills.
I have an awareness that I'm not good at mathematics.
Application period is as follows.
Spring semester: April
Fall semester: October
Please click here to see the detailed information of application.
Location
Fix Booth at PANGAEA 3 "Dialogue Area" (Library 1F)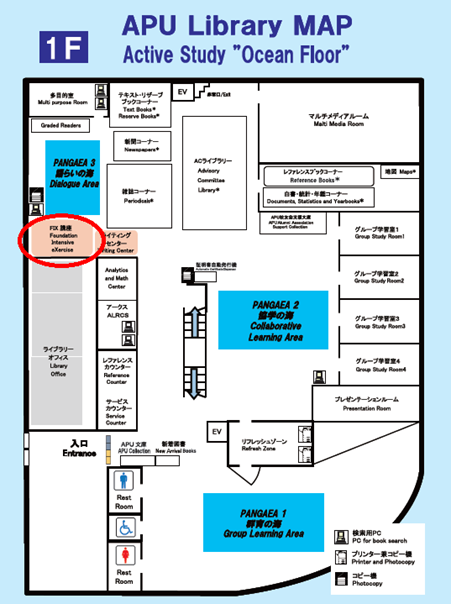 FIX : Supervisor and Supporters
Supervisor Bio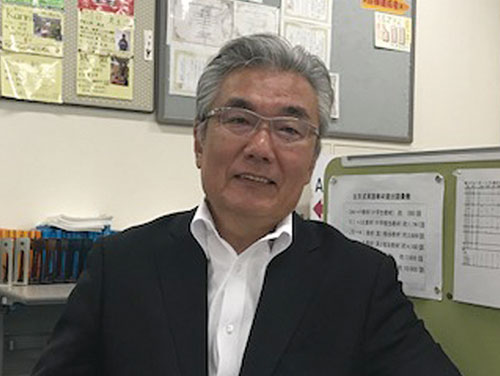 Yuji MAEDA
Hometown: Nagasaki City, Nagasaki Prefecture
I have worked at the Kumon Institute of Education CO. for 37 years. At Kumon, I have been involved in the tasks of discovering the potentials given to each person including children, and develop those at the maximum.
Through the days working at Kumon, I got to know APU students who always are studying diligently under the spirit of the foundation and the basic policy of APU. Getting to know them made me eager to learn together and commune with them.
My dream came true in April 2017 and now I am in charge of the FIX Course.
Let's cherish "Think globally, Act locally" and work on together!
Supporters
Supporters provide courteous support to each participant and help them reach their own learning goals.
Supporters also work for strengthening the relationship among participants.
Supporter Recruiting
Application period for supporters (Kumon-APU Joint Lecture enrollees) is set during the semester before the semester which Kumon-APU Joint Lecture is held.
Please click here to see the detailed information of application.