Supporters
You will be in charge of the role in supporting the students studying the materials of mathematics, English, Japanese, and Nihongo (Japanese for speaker of other languages) provided by Kumon Educational Japan in FIX Course. Through committing to the growth of the lectures, you will be able to reaffirm your own growth and potential, and also feel the rewarding.
In addition, you will also have the opportunity to learn the ability required as a working member of society by taking the "Internship (KUMON in the Campus Version)—APU Industry-Academia Joint Subject: Kumon Educational Japan" (Mandatory for all the supporters) held on every Wednesdays.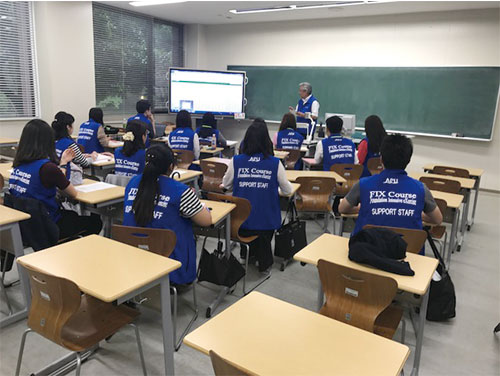 Becoming a Supporter
You are required to take the subject below to be a supporter.
Name of Course: Internship (KUMON in the Campus Version)
Subject: Kumon Educational Japan
Application Period
2019 Fall Semester : Thursday, June 20, 2019 – Friday, July 19, 2019, 16:30
*Please make sure to check the application information and the Syllabus below.
Application Period
Please apply from the online survey.
Supporter Experiences
Please click here to see the voices of the supporters.