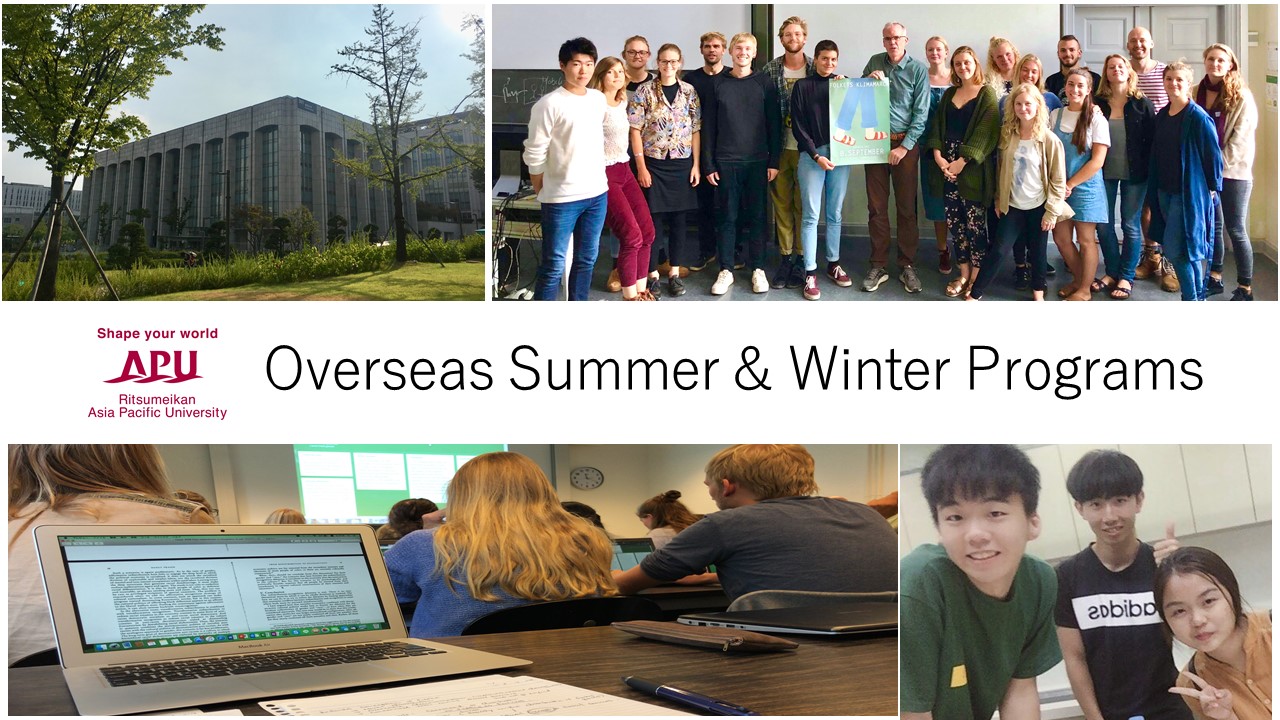 Program Overview
APU students can participate in curricular, summer and winter programs offered at APU's partner universities. Because many summer and winter programs center on intensive courses in English, students must possess a high level of English proficiency prior to participation. In addition to attending all classes, students must actively participate in class activities. Studying and living abroad is an invaluable experience. However, it can also be difficult and stressful. In principle, you are responsible for dealing on your own with any problems you might experience abroad. We expect that you have a keen awareness of your surroundings and have the ability to act responsibly to avoid any dangerous situations. If approved by Academic Affairs, credits obtained during short-term programs will be transferred back to APU and counted toward the credit requirements for graduation.
AY2019 Recruitment Information
You can apply for any summer and winter programs offered at one of APU's partner universities. Please check program information including eligibility, program schedule, language of instructions, fees, the number of credits, and accommodation carefully, and apply for internal screening at APU. You can find some of the program information on the Academic Office website.
Programs
Overseas Summer & Winter Programs (Facebook)
Application Information
Summer & Winter Program Application Information (PDF)

Eligibility
(1) You must meet your host university's eligibility requirements.
(2)All students except for students in their first and final semester.
*Students enrolled in the Accelerated Program will not be eligible to participate in these programs during their final semester.
(3) Undergraduate students only. Graduate students are not eligible.
(4) Students on leave of absence or suspension during the program period may not apply.
(5) Students are not eligible to study at universities located in their home countries or areas.

How to Apply
Step 1 Online Survey
You will be asked to upload a photo and an English proficiency test score.
Incomplete applications will be automatically rejected.
Make sure to keep a record of information you will provide during the online application.
Step 2
Send the
Tentative Credit Transfer Form
and syllabi of the courses you are planning to take at your host university to the academic office <
outbound@apu.ac.jp
>. If there is no syllabus available, you need to create a document which shows program information instead. Please check "Note when submitting the Syllabus (page.4-5)" for more details.
Application Deadline: One month before the host program application deadline
Deadlines will vary for each program. Students are responsible for confirming deadlines on their own and applying well in advance of the deadline.
(Final Deadline)
Spring Semester
Fall Semester
Programs During 2Q
Wed., May 8, 2019
Wed., October 30, 2019
Programs After 2Q
Wed., July 3, 2019
Wed., January 8, 2020
Documents for Submission for Accepted Students
(Before Departure)
(After Return)
Academic Office
+81-(0)977-78-1101
outbound@apu.ac.jp