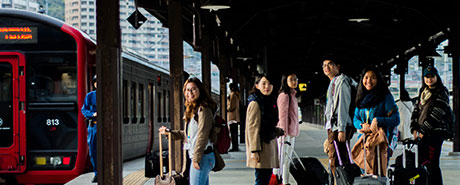 2019 Spring Semester
FIRST Program (Taiwan)
Eligibility: 1st year Japanese basis students (as of April 2019)*For further information, please check the Application Information.
Application Period: Monday, April 1 – Friday, April 12, 2019 (16:30)
Program Information: Please refer to the Information Sheet (Japanese version only).
2018 Fall Semester
FIRST Program (Kyushu)
Eligibility: Students must meet the following conditions at the time of applying:

English-basis international students in their 1st or 2nd semester
If students are in their 2nd semester at the time of applying, they must have earned 14 credits or above by the end of their 1st semester

Application Period: Fri. September 21st - Wed. October 10th, 2018 (16:30)
Application Process: Please complete the Online Application Form after reading the Application Information (PDF) and Syllabus (PDF) carefully.
(Note1) Online Application Form will be accessible when the Application Period starts.
(Note2) If you have any questions about the Online Application, please contact the First Program E-mail address:first@apu.ac.jp or visit the Academic Office directly.
1st session: October 3rd, 2018 (16:05-17:05) at F210 (2nd Floor, Building F)
2nd session: October 5th, 2018 (18:00-19:00) at AP Hall (AP house 2)
No reservation is required. All first-year International Students are welcome!!
About the FIRST Program (Kyushu)
The 'FIRST' (Freshman Intercultural Relations Study Trip) Program is designed to offer first-year international students visiting Japan for the first time. Participants will travel in groups, each with its own assigned Japanese TA, to several locations in Kyushu to conduct research on designated topics. In a four-day period, participants will have the chance to meet and exchange with over 200 Japanese nationals.
With all these great opportunities to enhance your studies in Japan, why not give "FIRST" a chance?
Related Pages