APU utilizes the "Blackboard" learning management system in order to facilitate teaching and learning, communication between professors and students as well as among students and learning outside of the classroom. From the AY 2016 fall semester, we introduced a cloud-based Learning Management System (LMS) called "manaba" for use in distributing course documents, submitting reports, and managing attendance.
Learning support system - manaba
Manuals (For professors and students)
You can find it at Log-in page of manaba.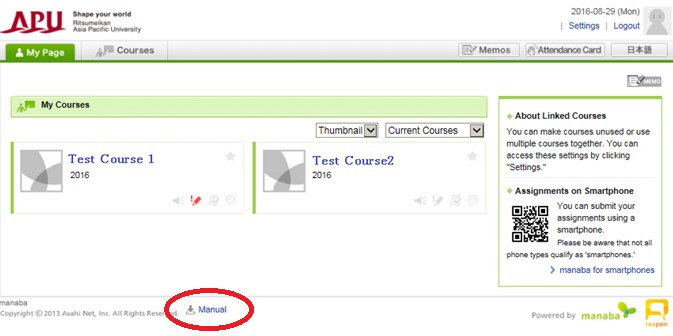 respon
"respon" is an application designed for use with the cloud-based learning management tool (LMS) "manaba." It can be used for taking real-time surveys or for managing attendance.
*Requires setup ahead of time. Details can be found in the user manuals shown below.
Manuals
Updates
2019.04.02 Version upgrade (Ver. 2.9.2) (PDF)
Operating Environment
OS
Web Browser
Windows
Internet Explorer11 (Microsoft Edge is not supported)
Mozilla Firefox
Mac
Safari
Mozilla Firefox
iOS
Safari
Google Chrome
Android
Google Chrome
Inquiries
Information Systems Administrative Office
Location: Building D, 3rd Floor Hours: Mon-Fri, 10:00-16:30
Further Details