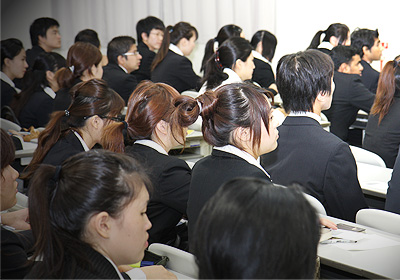 As one of the main pillars of its job placement activities, APU invites human resources personnel from companies to host explanatory meetings, written examinations and interviews with APU students.
The Merits of On Campus Recruiting for APU Students
Students can make direct contact with companies on campus and gain information about ongoing projects, job tasks, etc.
Students have a great chance to communicate with people that work at and represent certain companies, using opportunities such as a question-and-answer session.
Required Documents for Job Hunting Application Recommendations
1. Job Hunting Application Recommendation Application Form (Word)
2. Application Recommendation Consultation Checklist (Word)
3. Job Hunting Pledge Under the Application Recommendation System (Word)
---
Notification and Applications for On Campus Recruiting
On fixing participating companies/organizations, date, etc., this information will be first posted on the campus terminal as "On Campus Recruiting Information." Other details, such as potential applicants, time, content and location, will be posted on the "On-Campus Recruiting and Other Event Search " site of the Campusmate Web.

Campusmate Web Manual - On-Campus Recruiting and Event Search (Japanese)
Campusmate Web Manual - On-Campus Recruiting and Event Search (English)
NB: Available in PDF format

Please check the 'On Campus Recruiting' section of the Job Hunting Handbook for further details.
Desired Employment and Career Path Registration
In order to register or apply for events held by the Career Office, students must have competed the "Desired Career Path Registration." In case you haven't done so, make sure you completed the registration before registering or applying for the event.

Meanwhile, for non-job hunting students, you are also required to completethe registration in order to be eligible to register or apply for the event. At this point, you may not have determined your future yet. Hence, just simplyfill in your intention at the moment.

Desired Employment and Career Path Registration (Japanese)
Desired Employment and Career Path Registration (English)
NB: Available in PDF format