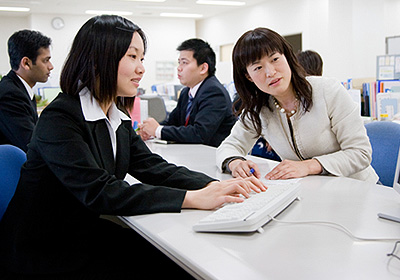 The Career Office is offering a counseling service for job hunting, internship and any career related matters. If you have any concerns or anxiety, please feel free to come and consult your problems with our counselors. However, please also keep in mind that prior appointment is required.
---
How to Use the Counseling Service
Prior appointment is required for the counseling session. You could make an appointment at the Career Office counter from 10 days to 1 day prior to the requested day of counseling session. In case you are not in Beppu and cannot come to the office for reservation, please make a call to 0977-78-1128 for reservation.

When making an appointment, please note the following points.
1. Preferred Date and Time
Time slots for counseling have been set as follows. Please choose the most appropriate time for you.
| | | |
| --- | --- | --- |
| (1) 11:30-12:00 | (2) 12:45-13:15 | (3) 13:30-14:00 |
| (4) 14:15-14:45 | (5) 15:00-15:30 | (6) 16:00-16:30 |
*Time slots (1)~(6) are for Monday to Friday
*Office is closed on Saturday and Sunday
2. Content of the Counseling
Proof reading the resume and entry-sheet / Mock interview:
You must submit a copy of your resume/entry-sheet at least 1 day prior to the requested day of counseling.

For other contents:
Counseling for job hunting in general, corporate research, self assessment, job offer/declining a job offer, visa, internship, student-life, etc. can be done on the same day. However, if a preferred counselor is absent or has other appointment, we may request you to rearrange the time.
---
Please be on time for the appointment.
NB: When you are late more than 5 minutes, your appointment will be cancelled.
NB: Please contact the Career Office for cancelation or change of appointment.