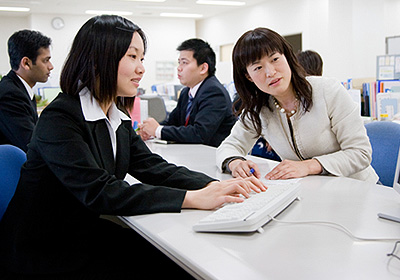 The Career Office is offering a counseling service for job hunting, internship, matters on post-graduate study and any career related matters. If you have any concerns or anxiety, please feel free to come and consult your problems with our counselors. However, please also keep in mind that prior appointment is required.
---
How to Use the Consultation Service
Prior appointment is required for consultation sessions.
You could make an appointment at the Career Office front desk or by phone from 1 to 10 days prior to your desired day for consultation. In case you are not in Japan and cannot come to the Office nor call for reservation, please send in an email to consult with us first. (* Reserve by phone during the period classes are conducted online, where students are forbidden to come on campus).
TEL: 0977-78-1128 Email: career2@apu.ac.jp
When making an appointment for a consultation session, please note the 3 following points.
1. Preferred Date and Time
Time slots for counseling have been set as follows. Please choose the most appropriate time for you. *As of May 25th 2020
| | | |
| --- | --- | --- |
| (1) 10:30-11:15 | (2) 11:30-12:15 | (3) 13:15-14:00 |
| (4) 14:15-15:00 | (5) 15:15-16:00 | (6) 16:15-17:00 |
You may only reserve one consultation at a time. If you wish to reserve a second session, you may do so after the one you previously booked is over.
*Time slots (1) – (6) are for Mondays to Fridays (except on Tuesdays), and (2) – (6) are for Tuesdays.
*The Career Office is closed on Saturdays and Sundays.
2. Format of the Consultations
When booking, you may choose between in-person or online consultations. If you are on a study abroad program or doing your job hunting activities off campus , and cannot come on campus for an in-person consultation, you may choose to have a session online via ZOOM.
3. Topics for Consulting
Feedback or check of resume and entry-sheet/ Mock interview:
You must submit a copy of your resume/entry-sheet at latest 18:00 on the day prior to the requested day of consultation. All submissions must be done via e-mail to career2@apu.ac.jp.

For other contents:
Counseling for job hunting in general, corporate research, self-assessment, job offer/declining a job offer, visa, internship, general student life, etc. can be done on the same day. However, if a counselor is absent or has other appointment, we may request you to rearrange the time.

Regarding cancellations:

If you wish to cancel your consultation booking, you must inform the Career Office ahead of time via phone or e-mail.
We reserve the right to refuse your consultation booking if you had previously not showed up for a session without notice.
In case of an in-person consultation, please come to the Career Office on time for your appointment. If you are late for 10 minutes or more, we will consider it as a cancellation.
In case of an online consultation, please check your Internet connection ahead of time. If you cannot access the consultation 5 minutes after the scheduled starting time, please contact the Career Office by phone at once.