Communication
Sense of Diversity
Use of Foreign Language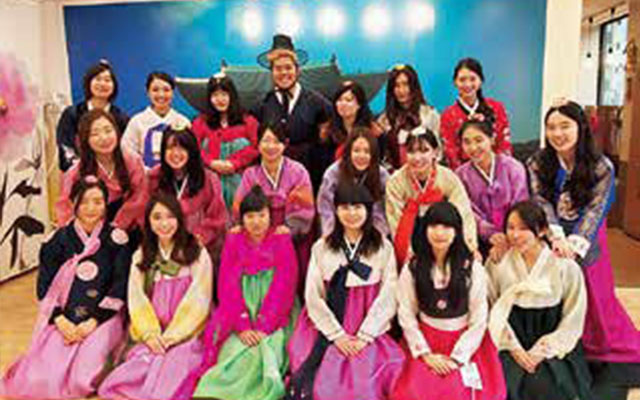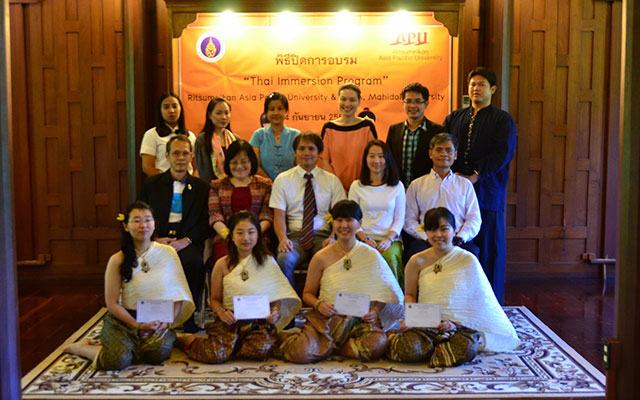 Language immersion programs are intensive language learning programs heldduring Summer or Winter breaks at foreign universities or their affiliated languageschools in order to boost the students' language ability. By immersing themselves in a foreign environment for 24 hours a day, students will not only gain practical language skills but also learn about the host country's culture and customs by interacting with local people and participating in activities as well as develop intercultural adaptability. Moreover, in order to take full advantage of the educational opportunities in the host country, pre-program lectures will be held before the departure and post-program lectures after the students' return to reflect on what they learned in the host country and link it to their future studies at APU.
Period:
August- September (5 weeks)
February- March(5 weeks)
Accommodation:
University dormitory or other accommodations such as hotels
Country/Area:
AP Language Immersion : China, Korea, Thailand, Vietnam, Indonesia
Application Period:
Differs according to the programs
No. of participants:
5- 25 students ※Differs according to the programs
Eligibility:
AP Language Immersion : Students who have completed level 1 in the program language or have equivalent language proficiency. (Some programs are available for students who have no basic language skills)
Credits:
4 credits ※Differs according to the programs
Program Feature
・Pre-program lectures
・Risk management lecture
↓
・On-site study
(5 weeks)
↓
・Return to Japan
・Post-program lecture
TAHARA Hiroki, Professor
Head of Asia Pacific Languages, Assistant Director, Center for Language Education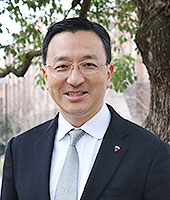 It is both natural and wonderful that students who enter APU want to study the languages of the Asia Pacific region. No matter which language you choose, there are many native speakers on campus. APU is an environment especially blessed for day-to-day cultural interaction and language study.
The program supplements this on-campus language practice with deeper and more intensive learning in the language?s home country. Small classes enable students to meticulously polish their skills. Moreover, students make the effort to use the language in daily life, experience a variety of cultures, and experience the feelings of hardship of life in a different country and gain the skills to overcome them. No matter the language or program you choose, the education you receive will go beyond simple vacation travelling and will profoundly enrich your university experience.
PHAM Van Truoc, Lecturer
Vietnamese Language Program Coordinator
The Vietnamese Language Program takes place in Ho Chi Minh City in southern Vietnam. Students study at Ton Duc Tang University, ranked second in the country by the 2017 Vietnam University Ranking. Besides study facilities, the expansive campus has a pool, gymnasium, cafeteria, and other amenities. Students in the program stay in on-campus dormitories and experience life as a regular university student in Vietnam. Besides classroom instruction, students take part in a variety of events, including lodging amid the rich nature of the countryside, cultural exchange gatherings with Vietnamese students, and cultural experiences. I am confident that you will enjoy your stay in Vietnam and that your Vietnamese ability will leap to the next level.
HESARIANTI Alamanda, Lecturer
Malay and Indonesian Language Program Coordinator
This is a five-week program in which students deepen their study of the Malay and Indonesian languages and cultures. Using the basic conversational skills they have acquired from the classroom, students are ability to speed up the pace of language aquisition and strengthen their ability to communicate in Malay and Indonesian. As part of their coursework, students interview Indonesian students and native speakers, then create presentations of what they have learned. Students also learn Malay and Indonesian needed for daily life, such as how to order at a restaurant and how to buy tickets for public transportation. Students also learn about Indonesia's diverse culture. The program is by no means easy, but at the same time it is very fascinating. I strongly recommend taking part in the Malay and Indonesian Language Immersion Program!