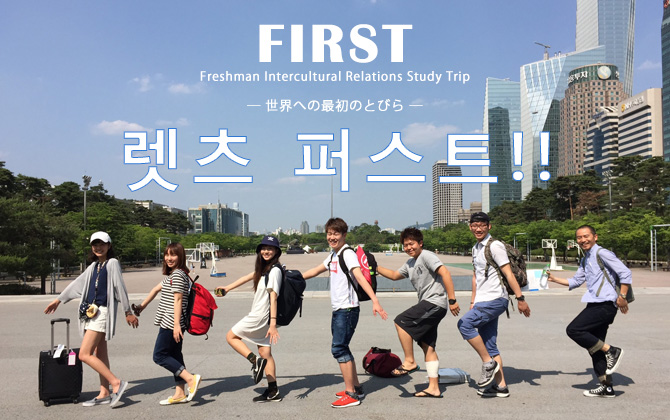 The Spring FIRST Program is held in Korea for domestic students2 whereas
the fall program is held in Japan for international students2.
→List of Off-campus Study Programs
→University support for APU students interested in student Exchange
What is the FIRST Program?
The Freshman Intercultural Relations Study Trip (FIRST) is a four-day, three-night program that offers first year students the opportunity to spend the inter-quarter1 vacation to travel domestically or overseas and directly experience Asian culture and society through interacting with the local community and carrying out research. The FIRST Program is held twice a year. A trip to Korea is held for domestic students in the spring, while a trip to another part of Japan is held for international students in the fall.
After you enter APU, the FIRST Program will offer you an opportunity to step outside of the multicultural campus, and this will enhance your understanding of what it means to learn at APU while giving you a global perspective. To date, a large number of students have gotten a taste of the outside world by joining this program.
The biggest feature of the FIRST Program is intercultural orienteering. For this activity, students divided into small groups and equipped with only the bare minimum of language training must make their own way to a designated destination in a foreign country. There, they must use teamwork and take initiative to conduct surveys while seeking help from local people. By doing this, students can meet over 250 people, which helps them develop confidence and a proactive attitude. Although upperclassmen from the destination country accompany the program students, it is the students who take center stage.
Thanks to the FIRST Program, many students develop an interest in studying overseas and go on to join a number of overseas programs, including language training programs, faculty-led field trips, and student exchange programs. At APU, the FIRST Program is your first chance to discover your door to the outside world.
Professor KONDO Yuichi
College of Asia Pacific Studies
Director, FIRST Program
Deciding the destination by lucky dip!?
The biggest feature of the FIRST Program is the hands-on approach to research in an unknown land, culture and language. Divided into small groups, students have to use the Korean language skills they acquire before departing Japan and make their way to a destination decided by lucky dip. Upon arrival they begin their research and carry out surveys based on a theme decided prior to arrival in the country.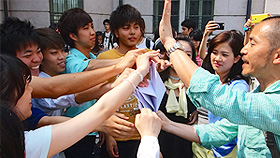 One in five students has experienced FIRST!
As students can enter APU in either spring or autumn, the FIRST Program is offered twice a year. The Spring FIRST Program is held in Korea for domestic students2 whereas the fall program is held in Japan for international students2. Since the program was launched in 2007, a total of 1090 students have taken part. It has since developed into a very popular program in which one in five Japanese students has taken part since AY2011.
FIRST(Overseas)
Objectives/
Characteristics
・Intercultual experience / understanding
・Exchange with people from a different country
Location
Korea
Timing and length
Spring semester (4 days)
Credits
2 credits
Program Eligibility
1st year domestic students
FIRST(Domestic)
Objectives/
Characteristics
・Understanding Japanese culture
・Exchange with local Japanese people in a non-campus setting
・Practical application of Japanese skills
Location
Kyushu
Timing and length
Fall semester
(4 days)
Credits
2 credits
Program Eligibility
1st year international students
The FIRST Journey
1. Pre-departure classes (one month prior to departure)
Under the guidance of faculty members, students decide their research themes, receive crisis management guidance and prepare themselves for departure. With the help of Korean TAs, the students also brush up their Korean language skills.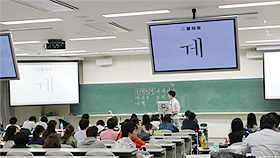 2.The project gets underway! (Four days)
As soon as students arrive in the country, they decide their destination by lucky dip. It's a moment of suspense for all!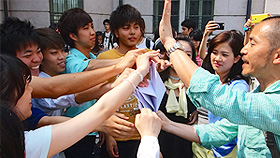 3.Armed with a map, a few words of Korean and teamwork, the groups set off for their destinations.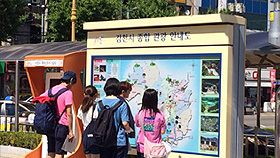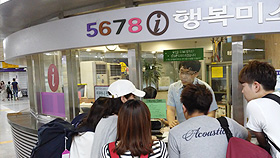 4.The end of Day 1
At the end of the day, students look back on the day's events, share their thoughts and reflections, and prepare for the next day.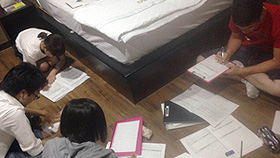 5.Arriving at the target destination!
Upon arrival, students begin their survey and research based on a theme decided prior to departure. Approximately 500 people need to be approached in order to complete the 200 questionnaires.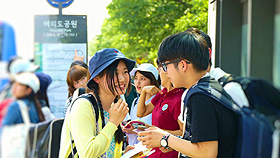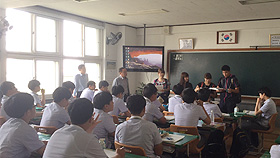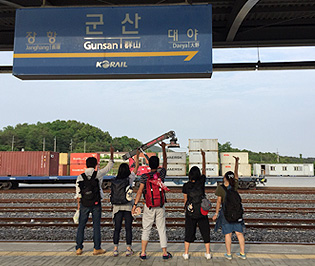 6.Returning to Japan
Upon arrival in Japan, students announce the results of their research and receive feedback from their professors. Through this program, participants develop their intercultural communication skills and discover a direction for their studies at APU.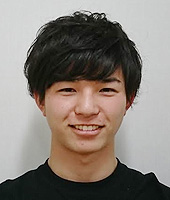 FIRST Program Student testimonial
HARAGUCHI Go (International Management 2nd year)
Through the FIRST Program I learned to not be afraid to take the first step. When I signed up for the program I was anxious yet curious about what I would be able to achieve. During our trip, I managed to use pictures to ask a station attendant how to get somewhere. Gradually the resistance I felt between cultures faded, and I came to appreciate other cultures. Thanks to FIRST I gained the confidence to challenge new things, and as a result I have taken new steps, like going to study abroad in Korea. I hope that each of you can find the courage to take a series of first steps through the FIRST Program. Come with us and Shape your World!
→List of Off-campus Study Programs
→University support for APU students interested in student Exchange
*1 The Quarter System
The APU academic calendar is divided into 2 semesters. Each semester consists of 2 quarters (approximately 8 weeks per quarter) and an intensive 2-month Session. Classes held during each semester are offered twice a week and are completed in approximately 2 months. This intensive calendar structure ensures positive learning outcomes and encourages students to apply themselves to their studies. Quarter breaks occur between quarters during which time classes are not held. APU offers intensive study abroad opportunities to take advantage of the quarter breaks.
【 The APU Academic Calendar 】
Apr
May
Jun
Jul
Aug
Sep
Oct
Nov
Dec
Jan
Feb
Mar
Spring Semester
Fall Semester
1st Quarter
2nd Quarter
Summer
Session
1st Quarter
2nd Quarter
Winter
Session
*2 International & Domestic students
The term "International Student" denotes those students who possess a "college student visa". The term "Domestic Student" includes international students with non-Japanese nationality possessing residential status in Japan other than "college student".