On Saturday, April 2, 2009, APU welcomed 993 new students at the 2009 Spring Entrance Ceremony held in the Beppu City, B-con Plaza Convention Hall.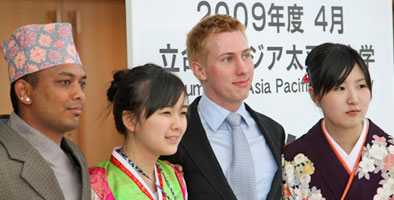 This spring we welcomed 906 undergraduate students from 36 countries and regions (692 domestic and 214 international), 33 graduate students (5 domestic and 28 international) and 54 short-term and exchange students (5 domestic and 49 international).

At the ceremony, President Monte CASSIM gave a few words of greeting, "A university is a place where you mature intellectually through a range of personal interactions with others. I am sure that you will become an integral part of APU. This is a community that is young, but daily growing in stature. On this campus you will discover learning communities, centering on the classroom and field based curriculum of this university and the activities of its research centers, offering a range of programs and activities which are rapidly growing in stature and repute. I urge you to build upon what your predecessors and peers have built."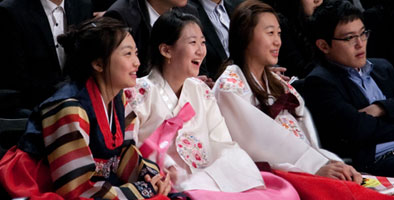 Following this, KIM Bo Geun (APM3, Korea) gave a few words as representative of the current students and SARMA Siddhartha (GSMM, India) and OTSUKA Sumina (APS, Japan) gave a few words each as representatives of the new entrants.

Ms. OTSUKA spoke of her ambitions for the future, "I want to interact with the many students who gather to study at APU from many different countries and regions and use the opportunity not only to improve my language ability but also to learn about the conditions in the students' home countries. I want to get involved in a circle involved in assistance initiatives in developing countries. To achieve this goal, I will make use of all I have learned to date, taking the lead myself while being careful not to forget that I am blessed with the support of many others."

As a finale to the Entrance Ceremony, current APU students introduced various circles through short performances and gave their support to the new entrants as they begin their new life at APU.