On Monday, March 23, 2009, President Monte CASSIM appeared as a panelist at the Tourism Oita Association sponsored Japan Tourism Agency Relay Symposium in Oita which was held at the ANA Hotel Oita Oasis Tower.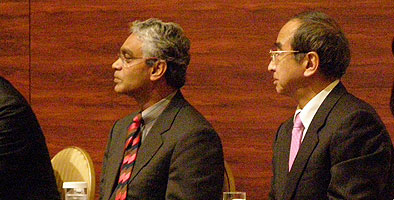 During the panel discussion held under the theme of "How can we develop Oita tourism?" President CASSIM joined the Governor of Oita Prefecture Mr. HIROSE Katsusada, Chairman of the Tourism Oita Association Ms. KUWANO Izumi, Commissioner of the Japan Tourism Agency Mr. Yoshiaki HONPO and Managing Director of JTB Corp Mr. SHIMIZU Shinichi who gave an animated exchange of opinions on the subject of the future regional development and revitalization of tourism in Oita Prefecture.

Governor HIROSE mentioned how he proposes to utilize the fact that Oita Prefecture has the highest number of international university students of any prefecture in Japan to make the appeal of Oita known overseas. Ms. KUWANO said that the limited amount of English information available at public facilities such as museums and art galleries is an issue.

President CASSIM suggested that, "We have almost 3000 international students studying at APU. By visiting our campus you can experience the culture of the world's different countries and regions without going overseas. Please make even more use of it."

The symposium was attended by a great number of people in the tourism industry who were very keen to hear what the panelists had to say.

APU has established the Tourism and Hospitality Institute as part of the Crossover Advanced Program (CAP) which academically merges the study of tourism and management to nurture leaders in the service industry and provides a high level of education.