Five APU students participated in the Middle East Tour planned by the APU student circle "SYRIA, Your Home!" and experienced Islamic culture. This took place over 15 days from Saturday, March 14, until Saturday, April 4, 2009, and visited world famous tourist spots such as Syria, Dubai and Oman.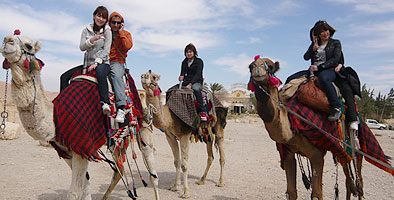 The student circle "SYRIA, Your Home" was established by HAJ MOHAMAD Mohammad (APS4, Syria), an international student from Syria. Mr. HAJ MOHAMAD's motivation to plan this tour was to introduce Middle Eastern culture to Japan, where it is relatively unknown, and also make Japan known to the people of the Middle East.

The tour group visited historical sites such as the Ruins of Mari which were part of Mesopotamia, one of the 4 great ancient civilizations of the world, and Damascus, known as the oldest continually inhabited human settlement in the world. During their tour they home-stayed in the Syrian city of Aleppo for 6 days and experienced the Islamic life style first-hand.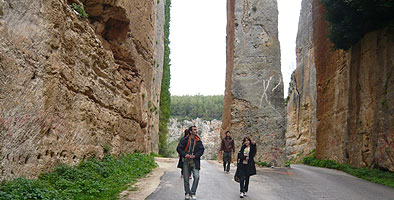 One of the tour participants spoke of their impressions.

"Prior to the tour I thought that the religious precepts of Islam were very strict at the beginning of the tour I was at a loss regarding our differing living habits such as bathing and meals. However, as the days went by, I didn't feel anything strange about them. Thanks to our Syrian guide, Muhammad we were able to have a safe tour of the historical and tourist spots and the tour provided me with the opportunity to experience Middle Eastern culture which I couldn't do in Japan."

Speaking as representative of "SYRIA, Your Home", Mr. HAJ MOHAMAD spoke of his impressions at the conclusion of the tour.

"The pre-departure preparations were very thorough because my first concern was the safety of the tour members. It was a good experience for me because through such experiences I have been able to build a new human network and demonstrate my leadership skills. I hope to continue to plan such tours for the benefit of Japan-Syria mutual understanding."

"SYRIA, Your Home" is currently planning for their trip to Syria and Turkey which is planned for August later this year. They will continue to plan and run tours while expanding the area of their Middle East tours.