On Sunday, May 3, 2009, approximately 80 APU international students from 21 countries and regions including Indonesia and France cheered on the Ritsumeikan Sumo team at the "49th All-Nippon University Sumo Championship" which was held in Usa City, Oita Prefecture.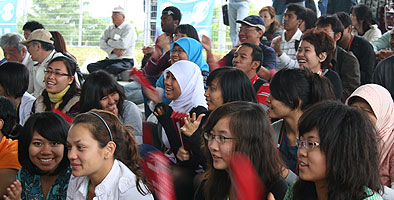 Approximately 100 sumo wrestlers were chosen from 12 universities around the country, including seven members of the Ritsumeikan Sumo team, to participate in this championship. Ritsumeikan University has a long sumo wrestling history and is famous around the country for turning out strong professional sumo wrestlers in the past.

This competition held in Usa City has a history going back nearly half a century. Ritsumeikan University organized a supporter's bus tour to offer APU's international students a taste of Japan's national sport and also to encourage exchange between students of APU and Ritsumeikan University.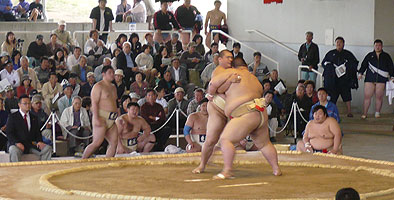 There were many people from various regions around Japan such as Tokyo, Shizuoka, Oita and Usa City. There was a range of ages amongst the audience from children through to seniors. All of them cheered the wrestlers and stayed by to cheer until the competition finished. APU students also went along to cheer on Ritsumeikan Sumo players.

One of the participants of this supporter's bus tour, KIM Dasom (APS2, Korea) said, "It was the first time for me to see a Sumo competition and it was very impressive. I have become more interested in Sumo and Japanese culture. Seeing the wrestlers, who are the same age as me, doing their utmost at this competition made me think that I also should do my best in my university life."
Reporter, Student Press Assistant (SPA): PARK Songyi(APM3, Japan)