On Sunday, May 10, 2009, 43 APU Vietnamese students and 10 international students performed Vietnamese folk dances and music and gave an Aozai fashion show at the finale of the "Nursing Forum" –the central event of the 2009 Nursing Day/Week held in Oita City.


The "Nursing Forum" was held as the central event of the May 12 "Nursing Day" and also the accompanying "Nursing Week". A range of events were held throughout the country during Nursing Week, however this year Oita was chosen to host the main event –the Nursing Forum –which was held at the iichiko Culture Center Grand Theatre and featured lectures and seminars relating to nursing.

The Vietnamese students' participation in the event came about through an offer from the Oita Prefecture Nursing Association which hoped to introduce the uniqueness of Oita as it aims to become an international city. The participating students performed a range of items on the main stage such as an "Aozai" fashion show, a North Vietnamese traditional dance and Vietnamese folk songs. They were met with a great applause from the large audience who enjoyed the rare opportunity to see the Vietnamese performance.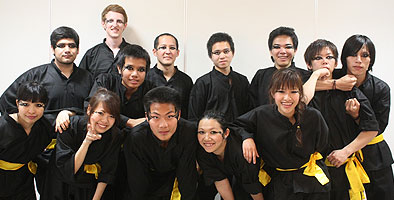 One of the central performers PHAM Bich Ngoc (APM3, Vietnam) spoke as she looked back on performing in the event.

"This was the first time that anything like 53 students had given a Vietnamese performance at an off-campus event and bringing everyone together proved to be a challenge. However, I am glad that the spectators had a good time. I hope that we can continue to perform actively off-campus in the future. My fellow members were able to improve their relationships further and increase their motivation as each of us work towards the success of the upcoming Vietnamese Week to be held in June."

There are currently 218 Vietnamese international students studying at APU (as of May 1, 2009). Every year "Multicultural Weeks" are held to throw the spotlight on different countries and regions and introduce their culture. The Vietnamese students will play a central role in introducing the Vietnamese culture during the upcoming "Vietnamese Week".

This year's Cultural Weeks start on June 15 and will begin with Vietnamese Week. They plan to perform the folk dances and music at the Grand Show to add a special touch to the finish of Vietnamese Week.

Please click here for a look at the 2008 Vietnamese Week:
http://www.apu.ac.jp/home/news/article/?storyid=802&lang=english