On Thursday, May 14, 2009, the Republic of Guatemala Ambassador to Japan, H.E. Mr. Byron ESCOBEDO visited APU and enjoyed a chat with President CASSIM, Vice President COOPER and Dean of Careers, TAKANO Kenji.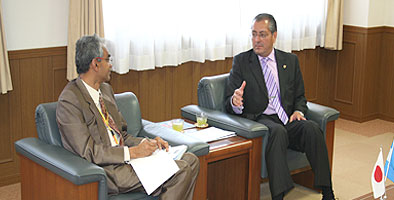 H.E. Ambassador Mr. Byron ESCOBEDO, who is an Ambassador member of the APU "Advisory Committee" support organisation, and President CASSIM discussed a range of issues revolving around their mutual need to develop stronger ties between Japan and Central/South America. During their conversation President CASSIM expressed his eagerness to "find and increase areas where we can engage in joint research and work towards strengthening our relationship" to which the Ambassador replied, "We are very keen to develop links with universities in strategically important areas".

The group also discussed current initiatives relating to the One Village One Product movement to which the Ambassador showed a keen interest.

At the conclusion of their discussion the H.E. Ambassador ESCOBEDO presented President CASSIM with a fine bottle of aged Guatemalan Rum and President CASSIM presented the Ambassador with a traditional Japanese fan.

After their chat, the group enjoyed a tour of the campus including the Cafeteria and AP House.

There are currently 25 students from the Latin American region studying at APU including one student from Guatemala. Let's look forward to the fruits of our strengthening ties with the strategically important Central/South America area.