学生生活|講演・シンポジウム
May 21, 2009
APU student CHEVATHAMANON Pataravut (APM4, Thailand) was one of the 23 APU students who were selected to attend the "Education Without Borders 2009" international student conference held in Dubai from March 29th till April 1st, 2009.



Mr. CHEVATHAMANON Pataravut was selected out of the thousands of entries to attend the conference as a delegate for his paper entitled "Globalization Cycle's Conflict: Foreign Direct Investment (FDI) and International Trade - The case study of Thailand " which looked at the relationship between FDI and International Trade based on global economic situation based on theory and findings from investigations.

During his time at the conference he was able to hear a range of student papers over the three days which was kicked off with an opening address by Nahan Mabarak Al Nahayan the Minister of Higher Education and Scientific Research, UAE and Chancellor of the Higher Colleges of Technology.

There was also a Q&A session held by distinguished world leaders including Cecilia Maria Vélez White; National Minister of Education, Columbia, Margaret Spellings; Former Secretary of Education, USA, Wayne Perry; Chairman, Hero Corporate Service Ltd., India; and Dr. John Sexton, President, St. Gallen University, Switzerland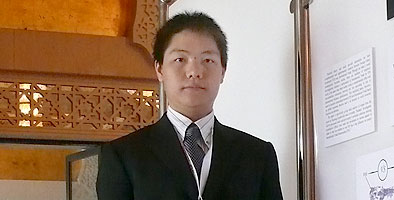 Looking back on the conference, Mr. CHEVATHAMANON Pataravut said, "The EWB was a very interesting international student conference. It looked at various aspects of past, present and future education through which we were able to study new things by listening and talking to each other. We were also able to experience a world class conference and fabulous days and nights, exchange cultures and interests, diversify networks and ultimately share this information afterwards."

The Education Without Borders is a biannual international student conference which aims to create networks across culture in order to understand and generate solutions for some of the world's greatest challenges. This year the conference was attended by over 500 students from around the globe and leading figures from the business, technology, education and humanitarian sectors.

This follows a tradition being built up of APU students active on the global stage. On May 7-9 2009, five APU students attended the St. Gallen Symposium held in St. Gallen, Switzerland and we hope to see more examples in the years to come.