On Thursday, June 18, 2009, with the support of their peers as audience and their teachers as judges, the Ritsumeikan Primary School students presented the results of their research conducted with APU international students. Groups of 5 students each stood confidently at center stage and, with the help of carefully prepared power point slides, discussed whether of or not they had accepted Japanese foods such as sushi and miso paste, and the various eating habits of APU international students.



"Our school is a front-runner in innovation and continuous improvement of instructional methods at the primary level," explained Ritsumeikan Primary School Vice-Principal ARAKI. Students listened quietly and intently to the group reports, and got involved in the presentations by promptly raising their hands when asked by presenters to guess ahead the results of tabulated answers. "Self-discovery and confidence-building are the key objectives of our class activities and the students really prepared ahead and looked forward to this particular activity" cited Mr. Rupani and Ms. Suehiro, both Ritsumeikan Primary School teachers.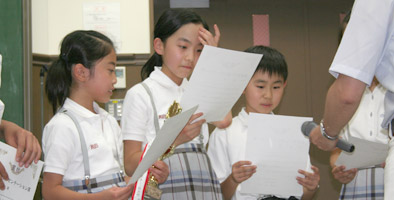 Winning the student competition was group Year 5, R Class Group 3, whose presentation focused on the theme "What foreign students think about Japanese food and culture." Starting with their hypothesis that foreign students are confused about Japanese food and that there are a lot of differences between Japanese food and food of other countries, Year 5, R Class Group 3 interviewed 70 international students over 4 hours. Based on their tabulated answers, the group concluded that foreign students are not confused about Japanese food and culture, and they have no particular eating preferences or restrictions. Group 5R3's power point slides helped the clarity and impact of their presentation with its clear, block letters and creative, animated graphics.

At the end of the awarding ceremony, the students rendered a heartwarming song of gratitude to their assigned APU buddies and judge panel teachers.
Reporter, Student Press Assistant (SPA): JIMENEZ(GSAD, Philippines)