On Friday evening of June 26th, 2009, crowds of people formed a long queue in front of the APU Millennium Hall awaiting the Grand Performance: the final act in Chinese Week. Following Vietnamese Week, Chinese Week was the second Multicultural Week, a week to give students the opportunity to showcase their identity and creativity of their nation's culture and language.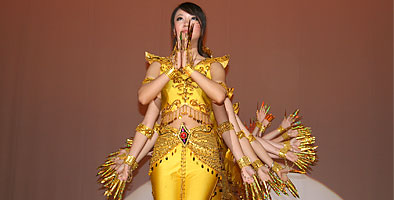 As soon as the show started, the audience shouted and clapped showing their excitement at witnessing the wonderful performance which unfolded during the Chinese Week finale performance. There were 13 performances packed into the 120-minute show by hundreds of participants from various countries including traditional music and fashion shows and Chinese dragon-lion dance.

The long and painstaking preparation was carried out by the Grand Performance Committee, as mentioned committee member by LIU Nan (APM2, China), "The show was well planned and with hard work we succeeded in making Chinese Week a great triumph." Furthermore, one of the performers ORJASAETER Even (APS2, Norway,) spoke of his impressions of Chinese Week, "It was great and a lot of fun. So many people were clapping and shouting. I think the audience liked the show very much and I would like to join Chinese Week again next year if I can."




APU Vice-President COOPER commented on this year's Chinese Week as a brilliant and professional show, "Chinese Week is getting better and better every year, and I think that this year's performance was perhaps the best so far."

The participating countries for the Spring 2009 Multicultural Weeks are as follows:
Monday, June 15 - Friday, June 19:Vietnamese Week (finished)
Monday, June 22 - Friday, June 26:Chinese Week (finished)
Monday, June 29 - Friday, July 3:Indonesian Week (under way)
Monday, July 6 - Friday, July 10:Thai Week
Monday, July 13 - Friday, July 17:Korean Week

*Multicultural Week is sponsored by the Nakajima Foundation
Reporter, Student Press Assistant (SPA): Raz Arisyi Fariza (APM3, Indonesia)