On Saturday, June 20, 2009, the Japan-China Friendship Festival Executive Committee made up of Chinese students from four Oita Prefecture universities, including APU, held the "Oita Japan-China Friendship Festival" at Wakakusa Park, Oita City, and presented traditional Chinese performing arts.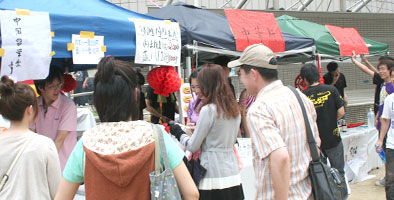 Held this year for the first time, the Oita Japan-China Friendship Festival came about from a call from Chairman of the Oita Prefecture Overseas Chinese Merchants General Assembly Mr. Huang Meixiong and Chinese students from four Oita Prefecture universities (APU, Oita University, Beppu University and Nihon Bunri University) who worked together in donation appeals for the Great Sichuan Earthquake relief efforts and shared a common goal of making the Chinese culture better known in Oita Prefecture. In addition to an introduction to Chinese culture, this year's friendship festival also aims to express gratitude for cooperation received in Great Sichuan Earthquake donation appeals. One Hundred Chinese students participated in the Japan-China Friendship Festival including 80 APU students.

On the day, participating APU students adorned themselves with magnificent Chinese costumes, performed traditional dances such as the "Thousand-armed Goddess of Mercy" dance and performed traditional music using the Koto and Biwa in addition to providing Chinese food such as Chinese boiled dumplings and Sichuan style tofu at food booths. APU student circle "Musy tone" participated in the performances to add further luster to the stage. The Wakakusa Park which played host to the event, was immersed in Chinese culture. Many locals enjoyed the Chinese flavor and gave a rousing applause to the stage performance which would have put professionals to shame.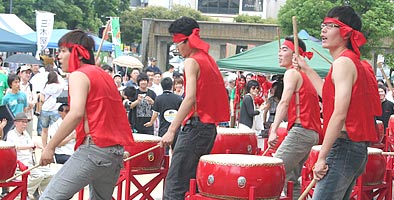 Looking back on the friendship festival, Executive Committee APU Representative WEI Ruoxu (APM2, China) spoke of his aspirations for the future, "We were able to make a success of this festival through cooperating with our friends in the prefecture. I hope to cooperate with other APU student circles to create further joint events and hope to extend our sphere of activities throughout Kyushu and Japan to make the Chinese culture even better known.

The APU students who participated in this event are members of the "Huayi-Chinese Traditional Art Association" student circle. With 140 current members, they participate in a range of events both on and off campus. In addition to performances in Fukuoka and Nagasaki Prefectures to mark the Chinese New Year, they also left onlookers with a lasting impression with their wonderful performance at last weeks Chinese Week.