On Saturday, July 18 2009, "STEP ~Everything comes from your Dream~" exchange gathering was held at the APU Pacific Cafe by the APU Student & Alumni Association Executive Committee.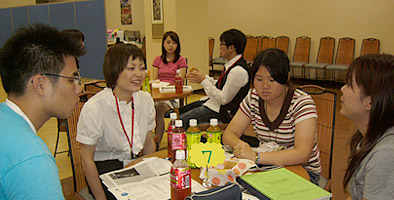 The committee invited APU graduates who are currently working in Japan to come and talk about their life, work, and APU experiences with current APU students. Through this program, the Committee hopes to encourage current APU students to start thinking about their vision for the future, to maintain relationships between graduates and current students, as well as to raise people's awareness of the APU Student & Alumni Association.

In the first part of the program, three APU alumni gave a ten-minute speech each and talked about their current life situation. Under the theme of "My Student Life", one of the speakers, YONEDA Rieko (APM, Spring'05) shared how she and her friends took the initiative to set up circles and organize new events, while keeping up their university study.

The second part of the program consisted of private consultation sessions with alumni members. The students were arranged to rotate four times so each group of students had the opportunity to have direct consultations with the participating alumni members.

Representative of the APU Student & Alumni Association Executive Committee, TORII Yuki (APS3, Japan), commented "If the participants, even just one single person, can feel that the sharing session has made an impact on their lives, I will be satisfied"One of the participants, HOSAKA Ryosuke (APS2, Japan) said that he was inspired to have a clear, unique future goal for himself and to think about what the most important thing in life is for him.

*APU Student & Alumni Association Executive Committee was established in March 2003. Currently the committee consists of fifteen APU students. The committee aims to be the bridge between APU current students and APU alumni for information exchanges. Throughout the years, APU Student & Alumni Association Executive Committee has organized Graduation Parties in Spring and Fall semesters, in addition to explanatory sessions such as STEP in which the seniors will be invited to come and share information to the juniors. In the future, the committee looks forward expanding their sphere of activities and organizing exchanges and gatherings in centers such as Tokyo, Kansai, and Fukuoka.
Reporter, Student Press Assistant (SPA): NUGROHO Katarina Marsha Utama
(APM3, Indonesia)