Thirty two international students from 16 countries and regions including Indonesia, Thailand and Bangladesh participated at the Ritsumeikan Primary School "World Week" held from Monday, September 7, until Friday, September 11, 2009. This annual event aims to increase the international understanding of the young Ritsumeikan Primary students.



The APU students were assigned to each class year and not only participated in English classes, but also in cultural exchange meetings, gave performances of their national costumes, songs and dance, participated in off-campus study trips and took part in a range of initiatives with the children.

Over the course of the week, the participants who appeared hesitant at the first day's Welcome Party, deepened their friendships and at Farewell Party held on the last day of the program we could see in their faces the friendships they had formed. Some participants were moved to tears when the time came for them to say goodbye.

One of the participants of World Week, HOSSAIN Imam (APM3, Bangladesh) gave his impressions as he looked back on the week, "I participated in the World Week as a Teaching Assistant and was able to make many friends of a different generation. This program was not only an opportunity for English study and international exchange for the primary school students, but also an opportunity for us international students to learn about Japanese culture and history. I have great expectations of the children who experienced this exchange program and I hope they go on to be the leaders of the next generation."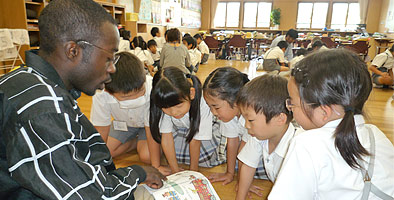 Established in 2006, Ritsumeikan Primary School has raised the "Raising Global Citizens" as one of its four educational pillars and is pouring its efforts into English language education. From Grade 1, students take English classes delivered by native English speakers and, beginning with APU, the school provides a range of opportunities to engage with people of different nationalities.

APU plays host to many students interested in international education and has come to be depended upon to play its role in the nurturing of the international citizens of the future. APU is involved in a range of cross-cultural exchange events not only with Ritsumeikan Primary School, but also with primary and intermediate schools in Oita Prefecture.

Please click here for the Ritsumeikan Primary School homepage:
http://www.ritsumei.ac.jp/primary/en/index.html