On Saturday, October 24th and Sunday, October 25th the APU Student Festival Committee Base Event will hold the annual Tenku Festival.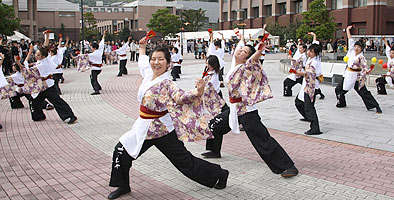 This year's Tenku Festival will commemorate APU's 10th anniversary. With the theme of "Loving APU", the festival aims to introduce the best of APU to students, alumni and the general public, create APU fans and build new relationships.

Approximately 60 shops will be set up to serve ethnic food on the APU campus. A mini-Multicultural Week-style stage performance entitled "Feel the WORLD from APU" will feature the Brass Band Club, Yossha Torai (Yosakoi Club), Shin-Myong (traditional Korean instrument club) and various other acts that showcase the world's cultures. This year's performance is new and improved to commemorate APU's 10th anniversary. Academic events will also abound. APU volunteer clubs will run exhibits on their activities and hold research presentations while clubs from Ritsumeikan University will hold a science lab show and run a planetarium.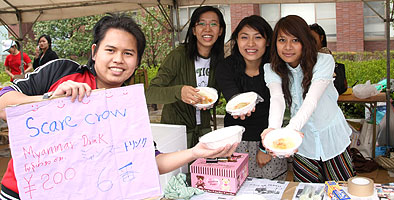 APU is also conducting Open Campus on Saturday, October 24th and Professor SANGA-NGOIE Kazadi will give a lecture entitled "What Can I Do for the World Right Now?". An AP House tour and admissions consultation sessions are also on tap.

Please refer to APUmate.net for more details on the Open Campus.
http://www.apumate.net/event/opencampus/info/event001973.html

We hope you can all make it.

7th Tenku Festival, "Loving APU"

Date/Time: Saturday, October 24th 13:00 – 17:00
Sunday, October 25th 13:00 – 19:00 (Fireworks from 19:00 to 19:10 *Will be cancelled in the case of rain)
Venue: APU Campus
Event Details
Stage Performance (Venue: Main Stage)
24th: 15 acts including Wadaiko RAKU, Brass Band Club, Yossha Torai, and Shin-Myong
25th: 12 acts including Double Dutch, JAZZ CLUB, Aikido Club, and the Cheerleading Club
Feel the WORLD from APU (Venue: Millennium Hall)
25th: 14:00~15:00 (Door Open: 13:30)
Other Clubs and Circles
OASIS, PRENGO, One's1 Fair Trade, Horseback Riding Club, Photo circle, "Mairaku", Tea Ceremony Club and many more!