On Sunday, October 18, 2009, the APU Symphony Orchestra delivered their 3rd Annual Concert at the Millennium Hall.



The Orchestra played 5 complete pieces familiar to fans of classical music such as "March Slave" and Beethoven's Symphony No.5. Professor FUKUDA Takashi of the KUNITACHI College of Music was invited to conduct the orchestra and with the help of over 60 extras from on and off campus, produced the beautiful sounds of the orchestra- the true essence of classical music. Over 300 students and members of the general public came along to hear the elegant performance.

Circle members have been preparing for this annual concert since December and working hard on their practice and recruiting extras. In addition to the APU Wind Orchestra and "LifeMusic", the extras who participated in this year's concert comprised of artists active in both Oita and neighboring Prefectures in musical groups such as the Oita Symphony Orchestra, the Oita Chamber Orchestra and the Oita University Faculty of Medicine Symphony Orchestra. At the invitation of the APU Symphony Orchestra, students and two violin teachers from the Oita Prefectural College of Arts and Culture have been coming to APU for the last 6 months to provide their guidance.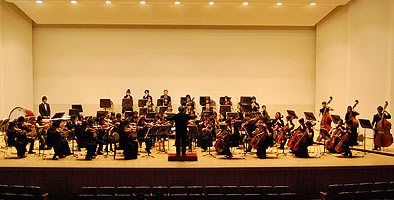 Looking back on the performance, APU Symphony Orchestra representative OSHIRO Hikari (APS3, Japan) spoke of her aspirations for the future, "It was a real challenge to bring together all the extras. Furthermore, the fact that we couldn't all practice together was cause for concern. However, we are very relieved that so many people came along today and that the concert was a success. I will continue to do my best to make the annual concert a place to come for everyone who loves music."

Established in 2005, the APU Symphony Orchestra currently has approximately 20 members who are working hard to deliver to us all the wonderful sounds of music.

The APU Symphony Orchestra fan club has been established and is welcoming new members. They also offer their services by playing around the region free of charge.
Please contact the orchestra with inquires about the fan club or community performances at: apuorchestra@yahoo.co.jp