On Monday, October 19, 2009, a ceremony was held to mark the donation to APU of a scholarship fund by the Ryoichi Sasakawa Young Leaders Fellowship Fund (SYLFF). Fund proceeds will go towards scholarship support for APU graduate students in the humanities and social science disciplines.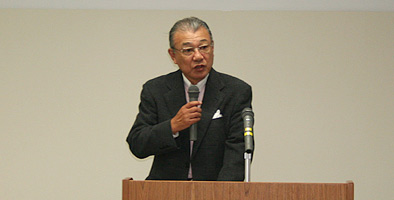 A total of ten officials from both the Nippon and Tokyo Foundations came to APU to attend the ceremony including Chairman SASAKAWA Youhei, Executive Director TANAMI Tatsuya of the Nippon Foundation, and Executive Director for the Scholarship, MATSUNOBU Akiko of the Tokyo Foundation. The APU contingent was headed by President CASSIM, Vice-President COOPER and Vice-President WAKABAYASHI.
Nippon Foundation Chairman SASAKAWA spoke of the reasons APU was selected, "The world of the 21st century needs, more than ever, people who can transcend borders and specialties as they tackle global issues. We have searched the world over to find the 69 SYLFF-endowed universities that are nurturing these (human) resources. I studied the map of the world and a list of universities, and I thought about it on my travels. As I thought, it became clear to me that APU, right here in Oita Prefecture, could help the SYLFF community realize its many goals."
In response, APU President CASSIM spoke of his aspiration for the endowment, "While there are now more nationalities on the APU campus than there are embassies in Tokyo, being able to link and collaborate with the 13,000 SYLFF fellows worldwide will truly bring the world to the doorstep of APU".
Established in 1987 by the Nippon foundation (administered by the Tokyo Foundation), SYLFF-endowed educational institutes now number 69 across 44 countries around the world. The SYLFF program aims to identify and nurture leaders who will overcome differences such as nationality, language, ethnicity, religion, and political systems to tackle global issues, and whose high integrity and drive to address issues unique to their respective countries can make a real difference. More than 10,000 students have received fellowships since the launch of the program in 1987.
The Ryoichi Sasakawa Young Leaders Fellowship Fund (SYLFF)
http://www.sylff.org
The Tokyo Foundation
http://www.tokyofoundation.org/en/
The Nippon Foundation
http://www.nippon-foundation.or.jp/eng/
Reporter, Student Press Assistant (SPA): JIMENEZ(GSAD, Philippines)