教育プログラム|学生生活
Nov 10, 2009
On Wednesday, November 4, 2009, three APU master's students in the Master's Student Field Research Support Program for spring 2009 presented their research findings at an RCAPS seminar held at APU.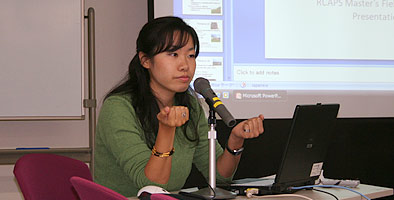 The seminar began with a presentation by OTAKI Hiroko (GSAPS, Japan) under the theme of "Initial Field work in Ishikawa Prefecture" in which she investigated the "satoyama" landscape in Ishikawa Prefecture. "satoyama" is a Japanese term used to describe the border zone or area between mountain foothills and arable flat land consisting of managed scrub or light forest.
Tith Chanthy (GSAPS, Cambodia) then discussed his findings on "Barriers to Access to Vaccination for Children in Rural Cambodia" which looked at poverty and the low levels of access to, and awareness of, vaccinations in rural Cambodia. The final presentation was delivered by NGO Chi, Thi Phuong (GSAPS, Vietnam) under the theme of `'Transforming Vietnam's Coffee Trading: Opportunities and Challenges".

Not only APU students, but a number of professors also attended the seminar which developed into a lively discussion between the presenters and audience of their research findings. At the end of each presentation, the master's candidates were able to receive constructive feedback as they work towards the completion of the final research.

RCAPS was established in July 1996 with a mission to promote and foster research into the multifaceted developments and challenges that face the Asia Pacific region in the 21st Century. RCAPS seminars are held regularly at which lecturers from both on and off campus are invited to share research findings in the field of Asia Pacific Studies.
Reporter, Student Press Assistant, Virgi Agita Sari (APM3, Indonesia)