学生生活|講演・シンポジウム
Nov 12, 2009
On Wednesday, October 28, 2009, lectures invited from Microsoft by the APU student circle "APU-CT" came to APU and spoke at the "Microsoft Seminar".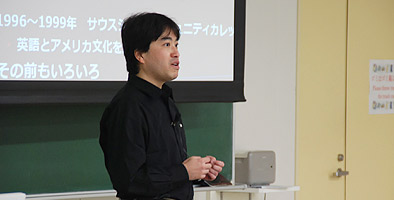 The seminar made use of the "On-line Event" software program –one of the support programs Microsoft provides for students. During the seminar, student circle representatives and "Academic Evangelists" –lecturers dispatched by Microsoft at no charge –talked about image processing software.

On the day, Microsoft Academic Evangelist Mr. Jin SAITO introduced and demonstrated the latest "Windows 7" office system program, how it differs from current systems, and also the robot creation software "Robotech". Furthermore, APU-CT representative Yusuf BILESANMI (APS4, Nigeria) introduced how to get most out of the image processing software "Deep Zoom". Many students and members of the public keen to hear about the latest computer software came along.

One of the participating students gave their impressions, "This was a valuable opportunity to learn about the performance capabilities of Windows 7 and I hope to participate in similar events in the future." Furthermore, APU-CT representative Mr. BILESANMI spoke of his aspirations for the future, "At the end of the lecture a local citizen involved in the design industry told me how he hopes to participate in further such events in the future. It would be great if we students and local Beppu citizens could work together and develop businesses in the future".