On Wednesday, November 25, 2009, the "2009 Autumn Award and Scholarship Conferral Ceremony" was held at the APU Convention Hall. Four students were awarded the ANDO Momofuku Scholarship, eleven students were awarded the Academic Merit Scholarship, and twenty one students were awarded the Academic Merit Award.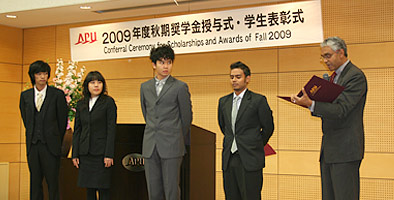 APU has set up a scholarship system to encourage and provide support for students who have achieved outstanding results in their academic or independent endeavors.

Following an introduction of the ANDO Momofuku Scholarship and Academic Merit Scholarship winners, President Monte CASSIM, College of Asia Pacific Studies Dean Professor Jeremy EADES, and College of International Management Dean Professor YOKOYAMA Kenji presented the representatives of the award winners with their certificates.




Representing the award winners, winner of the ANDO Momofuku Scholarship NGO Adrian Robin (APM2, The Philippines) spoke of his aspirations for the future, "The state of my home country has given me determination and a sense of self awareness. I want to continue learning and clarify what I should aim for and what to should do."

Winner of the Academic Merit Scholarship SHIMADA Akiko (APS3, Japan) said, "I learnt that we study not only to pass exams, but also of the enjoyment of studying something we really want to learn about. Through studying, I discovered the ideas central to me and as a result, I was able to receive this award."
GUNAWAN Eliani (APM3, Indonesia) also expressed her thanks a receiving an award and spoke of her future, "I have been actively involved not only in my academic commitments, but also in circle events. I have been able to spend a truly meaningful university student life. You can achieve results if you have faith and put in the hard yards. Let's work together towards the achievement of our goals".




The recipients then praised each others achievements and took photos together which brought the ceremony to a conclusion on a fine note.

More details on the scholarship:
The ANDO Momofuku Scholarship was also established through the courtesy of the late Honorary Doctor ANDO Momofuku. It aims to support students of high academic merit and insightful personalities who have participated extensively in extracurricular activities and displayed strong leadership qualities. One to four students in their 2nd or 3rd year are awarded this scholarship each year.

The ANDO Momofuku Scholarship

MD.MAHAMUDUL HASAN Denar (APM3, Bangladesh)
Garri Juanda (APM3, Indonesia)
ISKANDAR Zaza Hazadiah (APS2, Indonesia)
NGO Adrian Robin (APM2, Phi)

The Academic Merit Scholarship

BLAVIESCIUNAITE Aiste (APS4, Lithuania)
SHIMADA Akiko(APS3, Japan)
TAGAWA Yumi (APS3,Japan)
ZHANG Yu (APS2, China)
ISKANDAR Zaza Hazadiah (APS2, Indonesia)
VO Thi Mai Huong (APM4, Viet Nam)
GUNAWAN Eliani (APM4, Indonesia)
LIU Lihua (APM3, China)
ZHOU Ying (APM3, China)
JUNG Hyo Sup (APM2, Korea)
WANG Chenxi (APM2, China)

The Academic Merit Award

DEWULF, Christophe E.A. (APS4, Belgium)
SITDHIGUN Wankaew (APS4, Thailand)
HASHIMOTO Chika (APS3, Japan)
LE Thi Thanh Ngoc (APS3, Viet Nam)
LI Zhiyi (APS3, China)
ZHANG Wei (APS3, China)
AN Chiae (APS2, Korea)
WIJAYA Rehabya Randy (APS2, Indonesia)
TRAN Thi Dieu Duc (APS2, Viet Nam)
ZHANG Lu (APS2, China)
LI Fan (APS2, China)
KHEMCHOKNAWEE Pathomphong (APM4, Thailand)
HISAMATSU Aiman (APM4, Japan)
KIMURA Sayori (APM3, Japan)
LAUEBOONCHU Patarapon (APM3, Thailand)
HUANG Yihuang (APM3, China)
WU Qihao (APM3, China)
KIM Kyung Hwan (APM2, Korea)
KANG Seul Ki (APM2, Korea)
PRAYOONRAT Jidapa (APM2, Thailand)
GUO Jia (APM2, China)