講演・シンポジウム|来学者
Dec 8, 2009
On Tuesday, December 1, 2009, Vice-Minister of Economy, Trade and Industry Mr. Harufumi MOCHIZUKI delivered a special lecture under the title of "Economic Growth Strategy for Japan – Growing together with Asia" as part of the "International Trade" lecture of Professor YOKOYAMA – Dean of APM.



During his lecture, Vice-Minister MOCHIZUKI touched on the cause and effect relationship between a shrinking population and economic growth, "For Japan to enjoy continued economic growth with its shrinking population, it needs to turns its eyes towards the Asian market with its growing population and remarkable economic growth, and grow together with Asia. Furthermore, to achieve success in the Asian market, Japan needs to get involved in the development of goods and services that fit the needs of the Asian region, and furthermore, develop a system whereby multiple businesses can jointly get involved in the entire business project."

In the Q&A time, students posed questions surrounding Asian inflation measures, Japanese ODA initiatives, and government support of Asian business strategies. Approximately two hundred students came along to hear Vice-Minister MOCHIZUKI's lecture and took advantage of the opportunity to hear from one of Japan's top government officials in the economic field.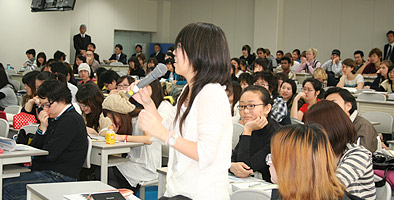 Following the lecture, President Monte CASSIM and Vice-President KORENAGA Shun joined Vice-Minister MOCHIZUKI for a chat during which the Vice-Minister gave a few words of encouragement, "Students from Asia and around the world learn together at APU; this is truly a university that meets the needs of our time. Focusing on the Asian region ten years ago took great foresight. I look forward to the future endeavors of APU students."