On Monday, February 15, 2010, one ANDO Momofuku Honor Prize recipients, eight ANDO Momofuku Scholarship recipients and two Ritsumeikan University ANDO Momofuku Scholarship recipients visited the NISSIN FOODS Group, Head Office in Osaka.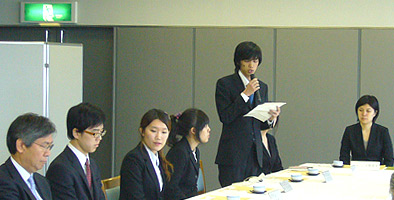 During their meeting with NISSIN FOOD PRODUCT, President NAKAGAWA Susumu, the President gave a few words of encouragement to the scholarship students, "on the 3rd of March will mark the centenary of ANDO Momofuku's birth. I want you all to take pride in the fact that you have received these scholarships and ask yourself when taking on a new challenge, `what would Mr. ANDO have done, what would he have thought?'"

The scholarship recipients each then thanked President NAKAGAWA and spoke of their goals for the future. ANDO Momofuku Scholarship recipient ASAI Misa (APM2, Japan) spoke of her aspirations for the future, "I am very grateful to have been awarded this scholarship. In the future I hope to work together with people in developing nations to develop goods of superior quality and change developing nations' sympathetic and helpless perceptions of 3rd world countries into a more proactive `can-do' approach. As an ANDO Momofuku Scholarship recipient I aim to work towards my dream and see my work through to the end".




Following this, the students then visited the Instant Raman Museum (Ikeda City), learned about the invention of instant noodles, and tried their hand at making some chicken-ramen for themselves. This visit proved to be a great opportunity for the students to reaffirm their goals and dreams and make a further commitment to ensure that they are realized.

Details on the scholarship and recipients for AY2009 are as follows:

The ANDO Momofuku Honor Prize
Established through the courtesy of the late Honorary Doctor ANDO Momofuku, the founder of Nissin Food Products Co., Ltd. and honorary doctor. The scholarship aims to support undergraduate students who are scheduled to graduate and who have a strong desire to contribute to the Asia Pacific Region in their future careers. Each year one to two students are awarded this scholarship.
YAZAKI Naomichi (APS Grad, September'09, Japan)
KURIHARA Kanoko (APS Grad, March'10, Japan)

The ANDO Momofuku Scholarship
Established through the courtesy of the late Honorary Doctor ANDO Momofuku. It aims to support students of high academic merit and insightful personalities who have participated extensively in extracurricular activities and displayed strong leadership qualities. One to four students in their 2nd or 3rd year are awarded this scholarship each year.
MOCHIZUKI Yoko (APS3, Japan)
HIRAOKA Shinya (APS3, Japan)
MD. MAHAMUDUL HASAN Denar (APM3, Bangladesh)
Garri Juanda (APM2, Indonesia)
ASAI Misa (APM2, Japan)
NUMAKURA Arisa (APM2, Japan)
ISKANDAR Zaza Hazadiah (APM2, Indonesia)
NGO Adrian Robin (APM2, The Philippines)