On Tuesday, February 23, 2010, Vice-Minister of Education, Culture, Sports, Science and Technology, Mr. SAKATA Toichi visited APU and enjoyed a discussion with APU President KORENAGA Shun, University executives and four international students from Korea, China, Indonesia and India.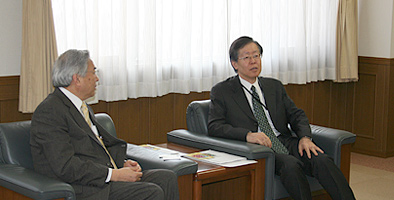 President KORENAGA introduced a number of APU initiatives such as the Japanese-English bilingual education system and APU's founding philosophy, "It has been a goal of APU to actively attract students from a range of countries and regions – not just students from China and Korea which currently make up over half of the population of exchange students in Japan". Vice-Minister SAKATA expressed a great interest in APU's independent scholarship systems which have provided so many exchange students the opportunity to study in Japan.

Vice-Minister SAKATA directed a number of questions to the international students such as, "why did you choose to come to APU?" and "how is your campus life?", to which the students responded in Japanese, "The fact that there is no Japanese language requirement to enter APU encouraged me to enter APU. I was also influenced by my older sister who is an APU student. I experienced culture shock due to differing customs and habits but overcame them by taking up residence in Beppu City and building relationships with members of the community". Another student commented, "I was attracted to APU's multicultural learning environment with students from a wide range of countries and regions. APU has a number of both domestic and international training programs which allow us to engage in international exchange both on and off campus."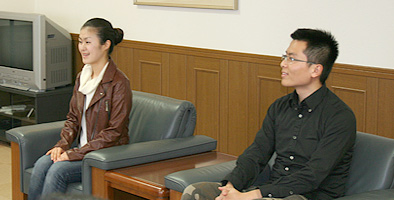 Vice-Minister SAKATA seemed impressed with the students' fluent Japanese and commented, "The acceptance of students with different cultural backgrounds is very meaningful. I hope the Japanese students make use of this diversity in their efforts to further improve themselves". The Vice-Minister continued, "APU has been evaluated over these 10 years since it first opened and I feel that the University's educational systems could become a role-model for universities in Japan. APU has a large role to play in the future of the higher education sector."

APU student LIU Yang Beibei (APM2, China) who participated in the meeting, said, "It is a great honor to meet with such an important member of the Japanese educational administration and the Vice-Minister's statement that `Japanese people have a passive attitude toward foreign languages' has left a lasting impression. However, the Japanese students around me actively create opportunities to speak in English I look forward to the day when Japanese people like those at APU become mainstream. I myself am also working to improve my foreign language communication skills and I hope to put the Vice-Minister's opinions and experiences to good use in my future."

APU currently has students from 97 countries and regions which make up approximately 50% of the student body. Our faculty is also comprised of approximately 40% foreign nationals who help to create the APU multicultural campus. Classes are offered in both English and Japanese and there is no Japanese language entry requirement for international students. After entering the university, students engage in comprehensive Japanese language classes and develop the high level Japanese language skills needed in the international business and academia sectors.

* The term "International Students" denotes those students who possess a "Student visa".