On Friday, April 2, 2010, APU welcomed 988 new students at the 2009 Spring Entrance Ceremony held in the B-con Plaza Convention Hall, Beppu City.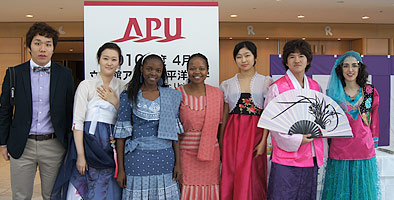 President KORENAGA Shun welcomed the new entrants, "I hope that during the time you spend here as students of this ambitious and exciting university, you will gain a new outlook on things, grow stronger as individuals, and experience the joy and confidence that comes from taking responsibility for shaping your own future".

This spring we welcome 853 undergraduate students from 36 countries and regions (653 domestic and 200 international), 31 graduate students (17 domestic and 14 international) and 104 short-term and exchange students (23 domestic and 81 international).

Following this, NGO Adrian Robin (APM3, The Philippines) welcomed the new students as representative of the current students and new entrants BARREDA MORENO Olga Patricia (GSM, Mexico) and SAITO Takuto (APM, Japan) addressed the audience.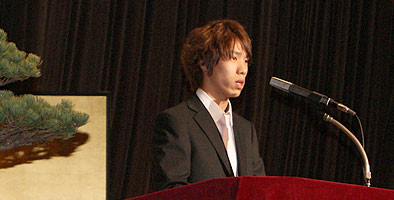 SAITO Takuto spoke of his ambitions for his time at APU, "I am proud to be joining the APU community and feel a sense of tension and determination as I embark on my first steps as an independent adult. At the same time, I am thrilled to be able to start my new life at this wonderful 'castle in the sky' campus. I also look forward to learning together with many inspiring individuals, sharing our different cultures and insights, engaging in discussion and debate, and deepening our understanding of one another at this microcosm of the global-community that is APU."

Ms. BARREDA MORENO continued, "I believe that there are no coincidences in life. Finding APU as a Japanese university where I could study was surely fate. I knew at once that this was what I was looking for and once again destiny played its cards and here I am now. I still have a long way to go and I hope that I can reach my goal someday but for now, along with my fellow students, I'll do my best here at APU. I'm sure that in the future everything I learn here will translate into a new bridge between my country and the Asia-Pacific region."

As a finale to the Entrance Ceremony, current APU students introduced a number of student circles through short performances and gave their support to the new entrants as they begin their new life at APU.