On Wednesday, March 31, 2010, a ceremony was held to mark the conclusion of the "APU English Foundation Skill-Up Program". Each of the 146 participating early-entrant domestic students was cordially presented with their certificate of completion by their instructors. This program was held as part of APU's pre-entry educational programs.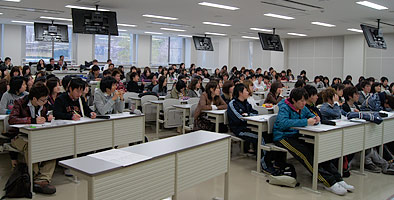 The APU English Foundation Skill-Up Program is held every year for Japanese language basis students and aims to relieve any apprehension or doubts students may have towards studying in English on APU's international campus environment. Ahead of classes due to start in April, this intensive English program was held over two weeks between Thursday March 18 and Wednesday March 31. During the program, students worked towards the start of the new school year and developed friendships as they studied together with APU English teachers, current students and Teaching Assistants (TA).

One of the program participants, ABE Shiori (APS, Fukuoka Prefecture), spoke of her impressions, "I felt unsure about taking classes in English and of my life on the APU campus, but having taken these intensive English classes and made some new friends, I feel a lot more confident that I can face my fears. Once classes begin I hope to get actively involved in volunteer work and overseas exchanges".




APU places a great importance on pre-entry education. Under the careful guidance of the APU faculty, students work to improve their foundation English language skills, are encouraged to set goals for their time at APU, and learn to become independent learners. Students also take part in intensive English training during their first year and work towards achieving the high level of language proficiency needed in the world of international business. In addition to a wealth of opportunities for English immersion programs and field studies for domestic first-year students, the university also supports students in their English studies through a range of academic programs working towards overseas study and exchanges.