On Friday, April 23, 2010, the APU student event group "Heart for Haiti" held a charity relief event for those affected by the massive earthquake that struck Haiti earlier in January this year.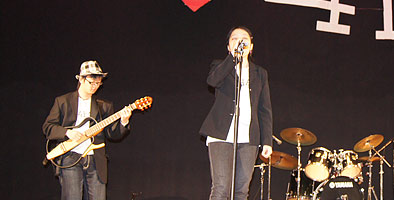 Heart 4 Haiti was established by Ray Samuel (APM3, Indonesia) and fellow students in the hope of supporting the relief work underway in Haiti. From Monday, April 19 until Friday 23, the approximately 20 member strong group carried out their relief campaign including the sales of charity t-shirts and wrist-bands, and also held a mini-concert.

Instead of buying entry tickets, concert goers made their way into the hall after purchasing either a charity t-shirt or wrist-band. The concert was well received by the many APU students and members of the local community who offered their support to the campaign.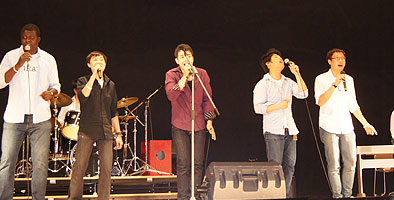 Eight groups got behind the Heart 4 Haiti mini-concert and sent a message of hope to Haiti through a total of fifteen musical performances including Michael Jackson's "Man in The Mirror" and Kazumasa Oda's "Tashika na Koto". For the last performance, event organizer Ray Samuel joined in for the joint chorus of "Lean on Me" which captured the hearts of the audience. Ray appealed to the audience, "This should not be the end of our interest in these charity efforts, rather we should try to do everything in our power to help, so please, let's stand up and do something to help".

At the conclusion of the concert, MIMURO Taigi (APM3, Japan) who performed in the show, spoke of the messages they hoped to convey through their songs, "I took part in this event as a way of sending a message of hope to the people of Haiti through song. I'm sure that if I were placed in a similar position it would take me an enormous amount of time and effort to get myself back on my feet. When I think of this, I am so impressed with the people of Haiti who continue to move forward with a positive frame of mind and these thoughts were with me when I sang Kazumasa Oda's 'Tashika na Koto'".
Reporter, Student Press Assistant (SPA): ARAKI Yukari (APS2,Japan)