On Friday, May 2010, APU and the Tianjin Language High School attached to the Tianjin Foreign Studies University (Tianjin City, China) concluded an agreement to establish an APU pre-enrollment class. The signing ceremony was held at Tianjin Language School High School. Representing APU was APU Vice-President HIRATA Junichi, and Dean of Admissions YAMAMOTO Susumu. In addition to Tianjin No.2 High School and Hangzhou Foreign Language School, this is the third APU pre-enrollment class established in China.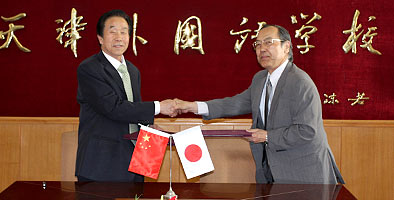 The APU pre-enrollment class is available to high schools students enrolled at these schools at the end of their second year that wish to enter APU. The class will begin in September 2010 and the first APU intake of students is scheduled for September 2011.

Established in 1964, Tianjin Language School High School was one of the first foreign language schools in China. With a current student roll of approximately 2600, many graduates have entered universities around the world including the University of Toronto, Canada. Last year APU had 20 entrants from Tianjin Language School High School and students have been steadily coming to APU since the university first opened.

Over the 10 years, approximately 1,200 Chinese international students have entered APU. The university also hosts the Confucius Institute, a first for Kyushu, and provides opportunities for students and members of the general public to study the Chinese language and culture. APU continues to enjoy a positive relationship with China and a number of important Chinese government officials have visited the university campus.