On Tuesday, May 18, 2010, Dr. OKUMURA Naoki and Dr. CHUBACHI Ryoji of the Council for Science and Technology (Cabinet Office, Government of Japan) took part in an inspection of the APU Campus. Dr. OKUMURA Naoki is the former-Representative Director and Executive Vice President of NIPPON Steel Corporation, while Dr. CHUBACHI Ryoji is the Vice-Chairman of Sony Corporation. The role of the Council for Science and Technology is to propose and regulate Japan's comprehensive and fundamental science and technology policies.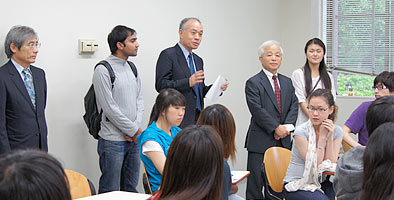 International students LEE Ji Young (APM4, Korea) and Md. Asaduzzaman (APM3, Bangladesh) guided the group around the library and Japanese and English language classes, in addition to a meeting with undergraduate and graduate students which offered the gentlemen the opportunity to hear first-hand about APU's unique education programs and student support systems.

Director of the Media Resource Center, Professor Davar PISHVA explained the Crossover Advanced Program Information and Communications Technology Program (CAP-ICT*). The two gentlemen expressed their wish for the development of IT human resource development that meets the needs of the industry. They also spoke of industry and university collaborative curriculum development in the field of information and communications technology.

During an observation of Associate Professor HONDA Akiko's Applied Japanese lecture, a number of international students raised questions about the kind of graduates sought after by the IT industry, work conditions and the qualifications needed. Dr. CHUBACHI responded by saying, "more than focusing on a fluent level of Japanese, HR departments are looking for people with something special – something that sets them apart from the rest. It also appears that applicants good communication skills during the interview perform well throughout the job-hunt". Further, Dr. OKUMURA offered a few words of encouragement, "Japanese businesses consider overseas expansion not as cost-cutting measure, but as an opportunity for advancement into expanding markets. For those of you aiming to find employment in Japan, having a high level of knowledge about your home country will be a great benefit to you in your job".

*CAP-ICT
APU has established five educational research Institutes that transverse the boundaries between the College of Asia Pacific Studies (APS) and College of International Management (APM) in order to respond to the issues facing the complex and diverse Asia-Pacific Region swiftly and strategically. With a view towards continued studies at the graduate level, these Institutes constitute the Crossover Advanced Program. One of the five institutes of the Crossover Advanced Program, the Information and Communications Technology Program (ICT) aims to develop graduates in the ICT field with the skills to create the information systems that can support the sustainable development of the information-intensive society of the 21st century.