講演・シンポジウム|来学者
Jul 12, 2010
On July 9 (Fri), 2010, Ms. Hikariko ONO, director , Second Country Assistance Planning Division, International Cooperation Bureau of the Ministry of Foreign Affairs, delivered a special lecture titled "Japan's Assistance to Afghanistan" at the APU.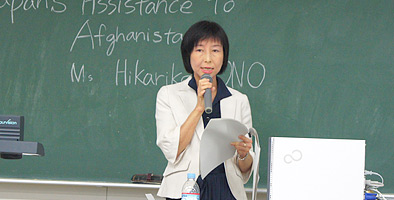 This special lecture was arranged as a part of the International Cooperation EA (instructor: Prof. Kazuhiro FUJIMURA, APS).

Based on her experiences of in the field of the assistance for Afghanistan, including her own visits to this country, Ms. ONO explained to the students why Japan assists Afghanistan, Japan's assistance to Afghanistan: achievements, New Assistance Policy, 2010 package as well as challenges ahead.
Around 200 students carefully listened to the special lecture. Various students proactively asked questions to Ms. ONO.

After the special lecture session, some students commented, "It was a valuable opportunity to be able to learn directly from the MOFA director about Japan's efforts to assist Afghanistan through ODA such as the ones for infrastructure development, agriculture and education," "The lecture has encouraged me to learn more about international cooperation".

Ms.ONO's special lecture was a very good occasion for the APU students who are strongly interested in the Official Development Assistance.