講演・シンポジウム|来学者
Jul 16, 2010
On Thursday, July 15, 2010, Professor Muhammad Yunus, 2006 Nobel Peace Prize Laureate and Managing Director of Grameen Bank came to APU Campus and delivered the Inaugural IAAPS Special Lecture entitled "Creating a World Without Poverty" at the APU Millennium Hall.


In front of a packed Millennium Hall, the Professor spoke of the "microcredit" system and how it came to be developed. He spoke of his encounters with poor people in Bangladesh and the problems they faced with loan sharks. His reaction was to offer US$27 to a group of poor people to help them repay all of their debts. He was both amazed at how people were made to suffer over such a small amount of money, and overjoyed to be able to relieve them of their financial trap.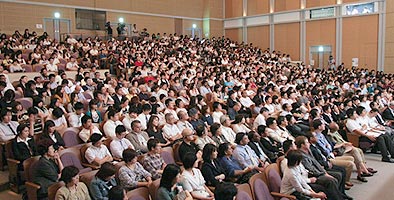 Through this episode, Prof. Yunus illustrated the plight of poor people - people who cannot borrow money from conventional banks due to the perception and fear that such people have neither security nor the means to repay the loan. Conventional banks, described the Professor, normally only lend money to those who already have money, in spite of the fact that poor people have a more desperate need for a bank loan. He spoke of his determination to confront this problem and create a world without poverty through the idea of "microcredit" - loans paid to poor people that enable them to generate an income, build wealth and escape the poverty trap.

He also introduced the concept of "social business", which he described as a sustainable, self-reliant business model designed solely for the purpose of solving social problems, not to maximize profits.

After numerous futile attempts to persuade the reluctant banks to adopt his microcredit system, he decided to establish his own bank, the Grameen Bank, and began providing microcredit loans. "A journey of a thousand miles begins with a single step" aptly illustrates the way he worked emphasizing the importance of taking simple, unsophisticated steps to solve the problems we face. The microcredit system pioneered by the Grameen Bank has since expanded from its beginnings in small farming villages in Bangladesh and now has branches throughout the world.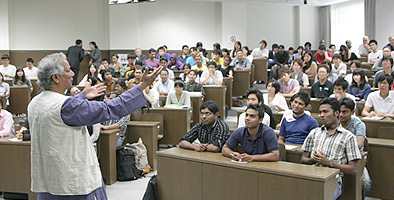 The lecture was followed by a Q&A session before the Professor joined a discussion panel in lecture theatre H202. Students then had the opportunity to interact with Professor Yunus, present their social business plans - created in a workshop held prior to this event - and receive his direct feedback and comments.

This was a wonderful opportunity for APU students to hear first-hand from such a renowned figure in the field of microcredit, social businesses and the alleviation of poverty. During his time at APU Professor Yunus also accepted a position as an APU Academic Advisor to support the further advancement and development of APU education and research.

A recording of the lecture can be viewed at the following URL. Be sure to check it out!
http://www.ustream.tv/channel/apu-channel
Student Press Assistant: NUGROHO Katarina Marsha Utama (APM4, Indonesia)