On Wednesday, July 14, 2010, seven members of Habitat APU took part in a project with Hiji-Youkoku High School students to translate Japanese children's books into English as part of a third-year English/international culture class.




This book translation project with local high school students is part of Habitat APU's "Picture Book Project" to translate unwanted children's books. The books are translated into different languages and then sent to areas around the world where they can be put to good use. Held during class time and organized by Habitat APU, this initiative came about after a presentation at Hiji-Youkoku High School organized by JICA last year.

On the day of the project, eighteen students in four teams worked together with APU students to translate two books per team into English. The students asked a number of questions and were keen to hear about the activities of Habitat and what life is like on the APU campus.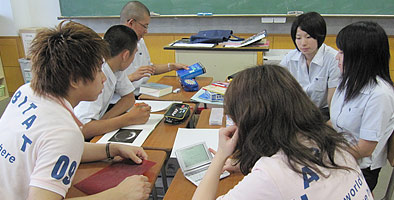 Looking back on the class, one participant commented, "I'm very happy to think that the books we translated will soon arrive in the hands of students in Malaysia" while another student commented, "It was difficult to find the exact words to fit the translation but it was a great opportunity to hear about the overseas work of Habitat and APU students. Class head teacher, Ms. KADOWAKI Toshiko also commented, "The translation work proved a challenge for our students but with the assistance of the APU students, they appeared to have a great time. I hope that similar events can be held again in the future".

Deputy leader of the translation project, KAWAHARA Rina (APS2, Japan) gave her impressions, "It was a great chance to meet local high school students and let them know about our Habitat projects. I hope that by taking part in such initiatives students will be encouraged to take a greater interest and participate more in volunteer activities.

APU Habitat was set up in 2006 as a branch of the Habitat for Humanity Japan (HFHJ) - a member of Habitat for Humanity International (HFHI). HFHI is a non-government organisation involved in the construction and renovation of dwellings for people of many different backgrounds all around the world. In August later this year, Habitat plans to carry out a volunteer construction project in Kuching, Malaysia, as part of its "Global Village" (GV) initiative. The books translated into English will be translated into Malaysian and presented to the children of Kuching. A workshop will be held on Wednesday, July 21 by student volunteers to translate the books into Malaysian. We hope that everyone who can will take part!

The Habitat APU Children's Book Project (Malaysian translation workshop)
Wednesday, July 21. 14:15 – 15:50 @ Classroom F207