教育プログラム|学生生活
Jul 22, 2010

On Friday, July 2, 2010, three APU graduate students selected for the Master's Student Field Research Support Program presented their research findings.



The seminar began with a presentation by SARMA Siddhartha (GSMM2, India) under the theme of "the Rise of Foreign Telecom Companies in insurgent North-East India" in which he investigated foreign companies who have invested in the telecommunication industry in North East India. He also discussed his research plan and highlighted the key points of his literature review.

ODOEMENA Anthony Tochukwu (GSAM2, Nigeria) then discussed the findings of his research under the theme of "Analysis of Incentive and Efficiency inducing mechanisms in Public-Private Partnerships: Case study of Korea and Nigeria". He explained the importance of the Public-Private Partnerships (PPP) in infrastructure development, presented his detailed analysis on a South Korean PPP and compared it with the situation in his home country of Nigeria. His thesis supervisor APS Professor TSUKADA Shunso also provided some valuable feedback and commented on further development needed in the field of PPP.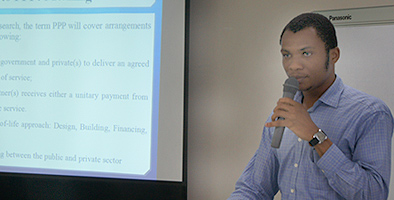 The final presentation was delivered by AHAMADH MUBARAK Mohammadhu Faleel (GSAM2 Sri Lanka). Under the theme of the "Socio-economic Impact on Migration of Sri Lankan Women to Middle East Countries", he spoke about female migration based on a case study in Sri Lanka.

After each presentation there was a question and answer session which developed into a lively discussion between the presenters and audience on their research findings. APU Pro-Vice President and chair of the seminar, Prof. Malcolm COOPER, also offered each of the presenters with constructive feedback as they now work towards the completion of the final research.

Research presentations were also held on June 30 and July 7 as follows:

Session 1 (Wednesday, June 30, 2010)
1. SAVON MERAS Patricia (GSAM2, Cuba)
2. RODRIGUEZ PLASENCIA Girardo (GSAM2, Cuba)
3. CHEA Sophorn GSAM2, Cambodia)
4. TRAN Ngoc Tien (GSAM2, Vietnam)
5. YANG Fan (GSAM2, China)

Session 2 (Friday, July 2, 2010)
(Presenters and research themes listed above)

Session 3 (Wednesday, July 7, 2010)
1. AMALDAS, D/O S Marystella (GSAM2, Singapore)
2. MURAMOTO Miyuki (GSAM2, Japan)
3. TANG Fu-Lun (GSAM1, Taiwan)
Reporter, Student Press Assistant (SPA): Dimithri Dveinda Jayagoda (GSAM 1, Sri Lanka)