教育プログラム|連携事業
Jul 23, 2010

On Wednesday, July 7, 2010, a presentation session was held at APU for Iwata Academy students on the APU Ritsumeikan Course to present the results of their studies. Students gave presentations in front of APU faculty, staff and their parents and guardians.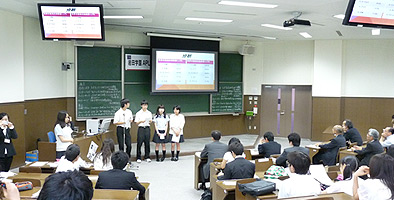 First year students gave presentations on the College of Asia Pacific Studies (APS), while the second year students gave presentations on the College of International Management (APM).

Although nervous to be speaking at their first presentation session, the first year students confidently gave their presentations on a range of themes including "Shrimp consumption in Indonesia", "Fair-Trade will save the World", "The World through the eyes of a banana - till bananas arrive at our table", "If Japan moves, the World will change". The senior second year students then offered their advice and impressions of each presentation.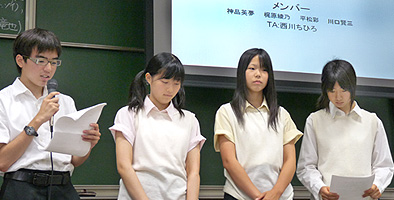 The second year students gave presentations under the themes of "Screening - Shall we learn lovely screening?", "LOCK IN THE WORLD" and "Commitment & Hold-up" which looked at how business theory and concepts can be applied to things around them in their daily lives. The "screening" presentation group proved popular with the audience as they used puppets to illustrate the screening process - using knowledge and reason to put the right person in the right place.

At the conclusion of the presentations, one of the participating students commented on the course outcomes, "Putting together these presentations was a wonderful learning experience that taught us many skills such as how to consider things, ask questions and voice our opinions". A parent of one of the participants also commented, "Seeing the 1st year students speaking so confidently and the 2nd year students coping with the tough questions from the audience makes me certain that this has been a great chance for them to develop and grow. I look forward to their further development".

A cooperation agreement was concluded between Ritsumeikan Asia Pacific University and the Iwata Academy in May 2007 which resulted in the establishment of the APU Ritsumeikan Course in April 2004. As part of the course, APU faculty members and Teaching Assistants (TA) travel to Iwata Academy every Wednesday and hold regular classes there.
Reporter, Student Press Assistant (SPA): HOURAI Yuki (APS2, Japan)