On Wednesday, July 7, 2010, the AY2010 Spring Semester Information SA & LA Completion Certificate Conferral Ceremony was held at the APU Convention Hall to recognize the efforts of six Information Systems Assistants (SA) and eight Library Assistants (LA).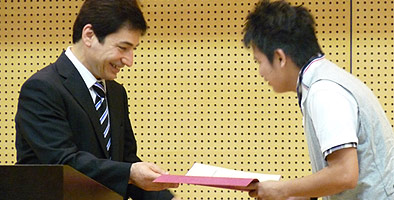 SA student staff members provide troubleshooting support for problems encountered in the on-campus computer facilities, while LA student staff members provide help to enhance the study experience of library users.

APS Professor and Director of the Media Resource Centre, Davar PISHVA opened the proceedings with a few words of praise for their efforts over the past months before presenting each recipient with their certificate, "I am certain that the experiences you gained as SA and LA staff will prove to be very valuable and helpful in your careers. I look forward to hearing about your future achievements".




Each of the recipients then took the stage and spoke about their time as an SA/LA. SA staff member, HONG Sukyoo (AMP4, Korea) said, "This experience has taught me the importance of friendship. I hope that the next generation of SAs will carry on this tradition and do their upmost to serve their fellow students".

A number of junior SA and LA staff were present at the ceremony and offered their appreciation to the senior members for all their hard work.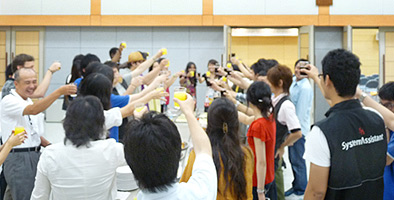 In addition to SAs and LAs, APU continues to provide opportunities for students to develop through extracurricular activities and on-campus employment including Teaching Assistants (TAs) who help with classroom management and Student Press Assistants (SPA) who work to promote APU publicity initiatives.
Reporter, Student Press Assistant (SPA): HOURAI Yuki (APS2, Japan)