On Monday, July 19, 2010, the 1st Open Campus for 2010 was held at APU. Many prospective students and their parents travelled to APU from around Japan to take advantage of the opportunity to experience APU's international environment.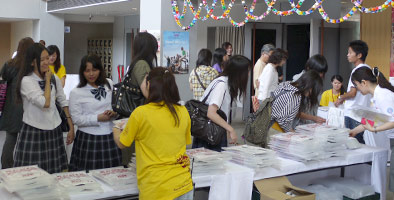 A range of events were held for the visitors to ensure they got the most out of their time on campus including Korean language classes by Korean students and mock-lectures by APU faculty members. A number of special Open Campus workshops were held by invited off-campus tutors focusing on English for short essays and university entrance exams. In addition, a wide range of APU students were available to meet with prospective students and discuss their queries about the entrance examinations and life on the APU campus.

A feedback session and signature appeal was held under the theme of "What can we do for the World?" at the Millennium Hall by APU and high school students involved in the "10,000 High School Students Signatures Campaign" calling for the abolition of nuclear weapons.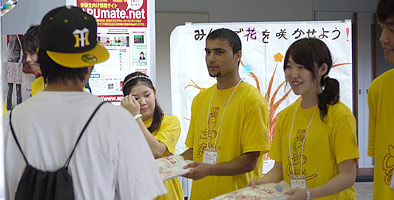 Global Admissions Student Staff (GASS) have been playing a vital role in Open Campus event management and planning including guided tours of the campus and AP House and quiz events. GASS student staff aim to introduce the unique features of APU to prospective students and their parents from a student's perspective.

The Open Campus scheduled for the 7th and 8th of August will also have campus tours, mock lectures and exchange events with international students. Appointments are not required so we invite all prospective students and their parents to come along and experience the APU international environment.

APU Open Campus Dates (Times: 11:30-17:00 * reception opens at 11:00)
2nd Open Campus:Saturday, August 7
3rd Open Campus:Sunday, August 8
4th Open Campus:Saturday, October 23
5th Open Campus:Saturday, March 26 (2011)

Click here for more details: APU mate.net (for domestic applicants: Japanese only)