On Tuesday, July 13, 2010, four student circles delivered a joint-performance at the "6th Shinjin Performance 'Yukari'" at the APU Millennium Hall. The show featured performances by Wadaiko "Raku", Mai "Raku", Arauma "Chiyo" and "Yosshakoi".





Now in its 6th year, the "Shinjin" Performance (Shinjin = "new step forward") offers new group members their first public performance while it also gives senior students the chance to return to their creative roots and take a new step forward. Included in the performance title, the word 'Yukari' refers to the ties that bind us to our friends, supporters and audience members who link us with the past, present and future.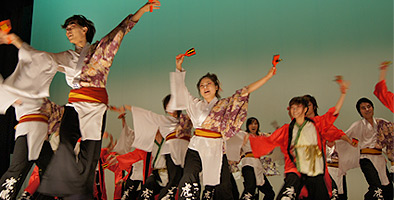 The show started with a rousing "rasse ra! rasse ra!" call from the Japanese traditional dance circle Arauma "Chiyo" followed by electric performances by each of the groups. The dynamic performance by "Yosshakoi" blending traditional and modern dance, the powerful Wadaiko "Raku" display featuring international and domestic students, and the well-paced and professionally executed performance by Mai "Raku" were a testament to their many hours of rigorous training. All the performances were well received by the audience and received a rousing applause.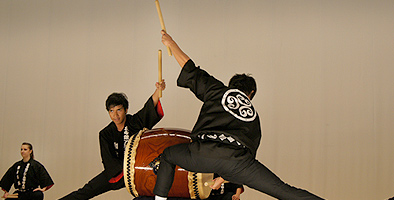 During the show, performance representative NAKANO Yuriko (APS2, Japan) addressed the audience, "Thanks to everyone who came along to see the show. We will continue our performance in the future and hope that the bonds we have forged here today will remain strong".

Participating in the event for the first time, MIZOKAMI Rina (APS4, Japan) gave her impressions, "this was my first experience so it was a very steep learning curve but I felt a great sense of satisfaction when the entire show came together so well without any major problems. I hope that this show continues in the future as a place or senior students to make new discoveries".
Reporter, Student Press Assistant (SPA): ARAKI Yukari (APS2,Japan)