On Saturday, July 17, 2010, the "STEP" exchange event was held at the APU Cafeteria by the APU Alumni Association Executive Committee. The event was attended by current students and ten graduates currently active in their respective fields.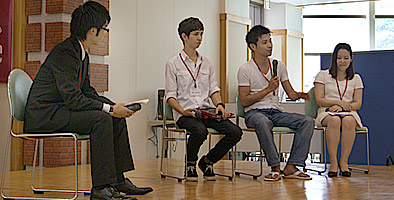 Now in its second year, the event included a talk-session, counseling session and a gathering near Beppu Station. The event was attended by a large number of current students of all ages.

During the talk-session, three graduates spoke about their time at APU, their extracurricular activities and study methods, and also their experience of the job-hunting process. The current students proved keen to hear the graduates' stories. For example, one graduate spoke of how "my motivation towards getting a job was initially low, but after taking time off university and completing an internship, my motivation improved" while another graduate commented, "I had to work hard to balance my classes with part time work to ensure that I had enough money to finance my job-hunt".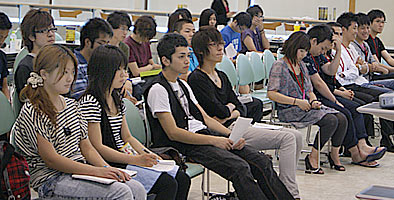 At the counseling session that followed, current students were offered the opportunity to ask their seniors - who are active in a wide range of field such as foreign and domestic business, finance, commerce, the service industry and tourism - a range of questions including study techniques and how to find a job that you are really interested in.

Representative of the Alumni Association Executive Committee, KOYAMA Yumie (APS3, Japan) commented on the event, "We held this event in the hope that our fellow students could meet and interact with graduates and discover a range of new possibilities. We look forward to deeper relationships forming between current and former students through this event".

Established in March, 2003, the APU Alumni Executive Committee aims to provide a bridge between current and former students. In addition to managing graduation parties in the spring and autumn, the Executive Committee also hosts a range of seminars for former students to share their knowledge with current students.
Reporter, Student Press Assistant (SPA): HIRABAYASHI Hayato (APS2, Japan)