From Thursday, July 22, through to Saturday, July 24, 2010, the third "DAYS JAPAN Photojournalism Exhibition" was held at the APU Conventional Hall. Over the three days, the exhibition was visited by a large number university students, professors, staff, and also of local citizens.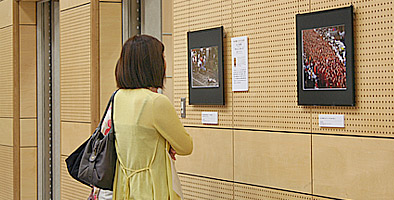 Hosted by the APU Journalism Circle, the exhibition featured approximately 40 photographs including 20 winning images from the DAYS JAPAN International Photojournalism Awards which provided visitors a glimpse into the frontlines of global issues around the world such as war and international conflict. The powerful images no doubt left each viewer with a different message to take away.

Event representative, HAYASHIDA Atsushi (APS3, Japan), said that, "without using words, these images of war and tragedy teach us so very much and have the power to touch our hearts. We would like to know what goes through the viewer's mind when they see these images. Our hope as hosts of this exhibition is that people will begin to question the current state of world affairs".

After coming to see the exhibition, YOKOMINE Shino (APS3, Japan), gave her impressions, "I was really impressed by all photos displayed this year, especially photos featuring animals. I'm sure that it must have taken a lot of time and effort to take these photos, so I hope students will take advantage of this opportunity to see, feel and understand more about global issues".

APU Journalism Circle hopes to hold more similar events at APU in the future. So let's look to some exhibitions of this caliber.
Student Press Assistant: Ha Thanh Binh (APS2, Vietnam)