講演・シンポジウム|来学者
Aug 10, 2010

On Thursday, July 15, 2010, Professor Muhammad Yunus, 2006 Nobel Peace Prize Laureate and Managing Director of Grameen Bank, came to APU Campus and delivered a lecture entitled "Creating a World Without Poverty" at the APU Millennium Hall about the concepts of "microcredit" and "social business".
Following the lecture, students who registered and were selected had the opportunity to attend a panel discussion with Professor Muhammad Yunus and have the privilege of direct interaction with the founder of Grameen Bank.





Five groups of students presented their social business plans to the Professor who offered each group his direct feedback. The students presented a range of social business, including the use of organic fertilizers to help farmers faced with rising chemical fertilizer costs, solar-powered stoves in rural areas of developing countries, and providing low-cost woolen hats to reduce preventable deaths amongst babies living in countries with severe daily temperature variances. All of the social business plans, however, were designed in accordance with the ultimate objectives of all social business, namely, the eradication of poverty and the solving of social problems through sustainable business models.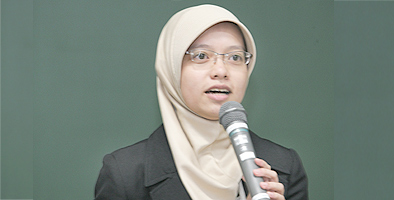 After the group presentations, a Q&A session was held which offered the chance for students to further inquire and clarify points about the concepts of microcredit and social business. Dr Yunus critiqued each plan and offered the students a word of advice, "it is important to consider the demerits of your plan and be sure with how the funds are spent". So many students raised questions, in fact, that there wasn't enough time all their questions to be answered.

This was a wonderful opportunity for students to interact with and present their social business plans to a renowned pioneer in the field of microcredit and social business.
Student Press Assistant: NUGROHO Katarina Marsha Utama (APM4, Indonesia)