On Sunday, July 18, 2010, the APU chorus circle "MUSY TONE" took part in the "Sunlight 'Yokodai' Summer Festival" held in Oita City and delivered a number of songs in Korean and Tagalog accompanied by an ocarina.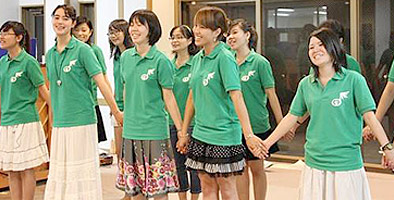 Up on the stage, MUSY TONE performed the "Counting Song", a regular NHK children's song that features counting in six different languages. The group also sang "Hello to all the children of the world" calling for children of all different languages and cultures to become friends, and songs from the famous Korean drama "Dae Jang Geum".
In addition, they also performed a number of Philippine folk songs and Japanese children's songs accompanied by the ocarina. International students from Norway, China and Vietnam greeted the audience in their native language in a concert that proved to be a feast for the eyes with colourful flags and props. The performance was received well by the audience who appeared to enjoy the opportunity to interact with the international students.




MUSY TONE member, WANG Jingyi (APM2, China) commented on the show, "Our greetings in different languages and songs from around the world gave the audience an opportunity to take a greater interest in countries around the world. I have been to a number of local exchange events in the past but this event offered us more than just singing, this was an opportunity to experience Japanese festival culture. It is through exchange events like this that we realize just how much people of the local community are interested in overseas. I hope to take part again next year".

On Friday 23, MUSY TONE also participated in front of approximately fifty residents at the Summer Concert held for the 3rd time at APHouse. In addition to eight songs, the group also sang "If you're happy and you know it, clap your hands" in fifteen languages in response to the audience's calls for an encore. Concert participant, DONG Minh Tuan (APM4, Vietnam), gave her impressions on the show, "This was a very memorable concert for me and I am happy to think that our songs have sent to the audience a message of our love. I hope that in the future our music can bring people closer together at APU and around Japan".

Established in 2006, MUSY TONE currently has 32 members consisting of 24 international and 8 domestic students working hard to share their harmonies with the campus, the local community and people around the world. MUSY TONE will continue to develop and maintain links with the local community in their future endeavors