From Thursday, August 19, 2010, the East Asia University Student's Peace and Human Rights Camp was held in Pusan, Korea. Twenty-one members of the APU "East Asia University Student's Peace and Human Rights Camp" student-circle took part in the event which offered participants from Korea and Japan the opportunity to consider and exchange opinions about peace and human rights. Held against a backdrop of Japanese and Korean historical sites and relics, the program ran until Monday, August 23.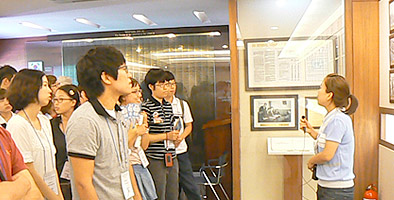 Students from ten universities in Korea including Seoul National University, Chonnam National University, Jeju National University, and the University of East Asia took part in the camp in addition to students from four Japanese universities including APU and Ritsumeikan University. A total of 105 students took part in this, the seventeenth camp held so far.

Held under the theme of "the Legacy of the Occupation of Korea, the Origins of the Korean War, and Pusan", participants received lectures by invited guest speakers from Seoul National University and Ritsumeikan University. Students also had the opportunity to visit important historical Korean War sites in Pusan, Geojedo, Haeundae and Masan. Students took part in daily group discussions on a range of topics before, on the final day of the program, students exchanged their opinions on the camp and topics including "the effect the Korean War had on the world".

Participating in the camp for his 5th time, representative of the East Asia University Student's Peace and Human Rights Camp, ONO Yuki (APS3, Japan), commented on the experience and his goals for the future, "Every time I take part in this camp I come to realize that that the causes behind issues between Korea and Japan are quite different to those we talk about with only a superficial knowledge of the topic. I am also reminded of the joys of learning and knowledge. I believe that it is vital to the future of the Korea-Japan relationship that students from both nations have direct interaction, share their concerns and have a concrete exchange of opinions. I hope to make use of the experiences I have gained through this camp and share them with my peers at APU".

Under the theme of "first-hand learning about peace and human rights", the East Asia University Student's Peace and Human Rights Camp invites students from Japan and Korea to visit historical sites, take part in lectures and fieldwork, and exchange opinions with the aim of gaining a better awareness of peace in East-Asia. Planning and program management is handled largely by the host university, in either Korea or Japan, and university students. To date, camps have been held in Seoul, Okinawa, Jeju Island, Osaka, Kyoto and many more sites throughout Japan and Korea.