On Saturday 4 and Sunday 5, September, 2010, the "Dolphins" APU Men's Basketball Team secured their league promotion with two wins from two games at the 17th All-Kyushu Basketball League Tournament. With this great result, the Dolphins have secured their promotion into the fourth division league.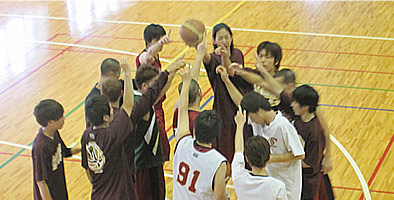 With links to the Beppu "Heat Devils" pro-basketball team and involvement in exchange events with local high school students, the Dolphins continue to be active both on and off the APU campus. In February this year, the Dolphins hosted the "APU Basketball Cup" inviting the "Old Boys" social basketball team from Havirov in the Czech Republic.

In recognition of their efforts to date, the team was reorganized as an "APU Premier Organisation"* in April, 2010, and has been working under the technical guidance of former pro-basketball player, SUEMATSU Hayato. The Dolphins currently have approximately thirty members training hard and aiming for further victory.

Dolphins representative, MATSUOKA Ryota (APM3, Japan), spoke of his hopes for the future, "Ever since we were recognized as an APU Premier Organisation, the desire of each and every team member to win has become even stronger and I'm sure that this has led to our recent success and league promotion. My teammates and I will continue to do our best to achieve even more league success and to develop the club into one of the university's leading student organisations".

The APU "Dolphins" Men's Basketball Team
Results from the All-Kyushu Basketball League Tournament (5th Division)


Friday, August 27 - Sunday, August 29 @ University of Nagasaki, Sasebo Campus
Friday 27: APU Dolphins 105 - 50 Seinan Gakuin University
Saturday 28: APU Dolphins 89 - 68 Kyushu Institute of Technology
Sunday 29: APU Dolphins 99 - 67 Daiichi Institute of Technology

Saturday, September 4 - Sunday, September 5 @ Seinan Gakuin University
Saturday 4: APU Dolphins 80 - 66 University of Kitakyushu
Sunday 5: APU Dolphins 76 - 68 University of Nagasaki


*APU Premier Organisations:
APU Premier Organisations are officially registered APU student clubs or circles that meet the following four criteria: relative to other student organisations, premier organisations must have "sustainability", "proven results", a "management structure", and "be international". There are currently thirteen APU Premier Organisations (listed below)

The APU Baseball Club, APU Men's Lacrosse Team, APU Women's Athletics Team, APU Women's Volleyball Club, APU Tea Ceremony Club, Wadaiko "Raku", APU Eisa Dan 'Champuru', APU Wind Orchestra Club, APU Samulunori Team (Shinmyoung), Yosakoi Club, Education Network, PRENGO, the Ritsumeikan Asia Pacific University "Dolphins" Men's Basketball Team.