From Tuesday, September 7, until Thursday, September 9, 2010, three second-year students from Beppu Municipal Asahi Junior High School took part in a work experience program at the APU Library. Held as part of an job experience program run by Asahi Junior High School, the three students experienced what it is like working in the Library.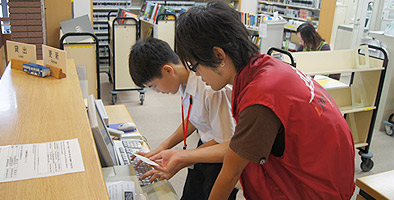 The three junior high school students first received an introduction of APU and their job at the library before trying their hand at the job of a Library Assistant (LA) - student staff who work to ensure a suitable study environment for library users. Under the guidance of LA staff, the students experienced working at the book counter, sorting and arranging books, labeling books, and more.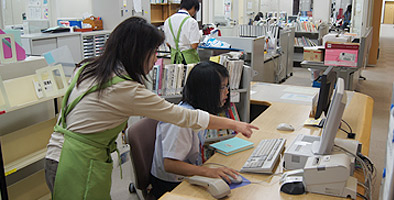 One of the students commented on their library experience, "compared to our junior high school library, I was so surprised by the size of the APU library and the number of books available. I experienced just how hard it is to work on your feet all day, but the LA staff taught us so easily and kindly that we really had a great job experience".

In addition to the duties mentioned above, LA staff are divided into three teams (planning, etiquette and guidance) and continue to work to ensure a great library environment through watching over the library, compiling instruction books for the library database, and much more.

The APU library boasts a collection of 120,000 books, research materials and magazines. Since April 1, 2010, the Library has been open to the Oita Prefecture general public and high school students free of charge. We hope you will take the opportunity to experience the unique APU library and its collection of books from countries around the world.
Please click here for more information.